WELCOME TO HOTNEWS 2013!!
As our site has not been updated for LONG time, it will be hard to get everything updated correctly for the whole year…
If you have any results and pictures from your Truly Yours dogs, please email me, and I would be more than happy to get them into our HOTNEWS!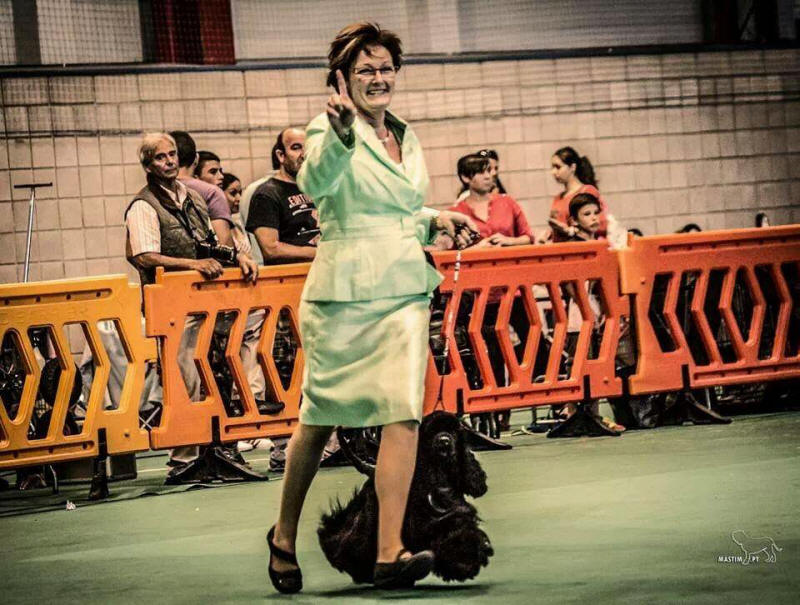 *****
CH. Truly Yours Dark Horizon x Truly Yours Watch Me Shine
Exported to Ecuador to our friends Jeannette Sosa and Juan Carlos Rurales Silva
a beautiful puppy named CHARLIE… registration name: Exclusive Truly Back from Ecuador,
Already a Multible Best in Show winner in Ecuador from Puppy Class and now shown for her
Junior Champion title in Ecuador with Handler Gustavo Ferrari.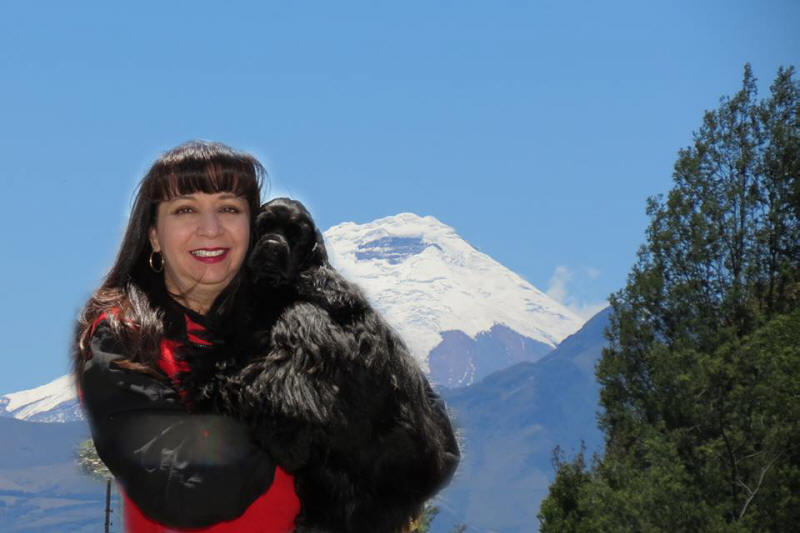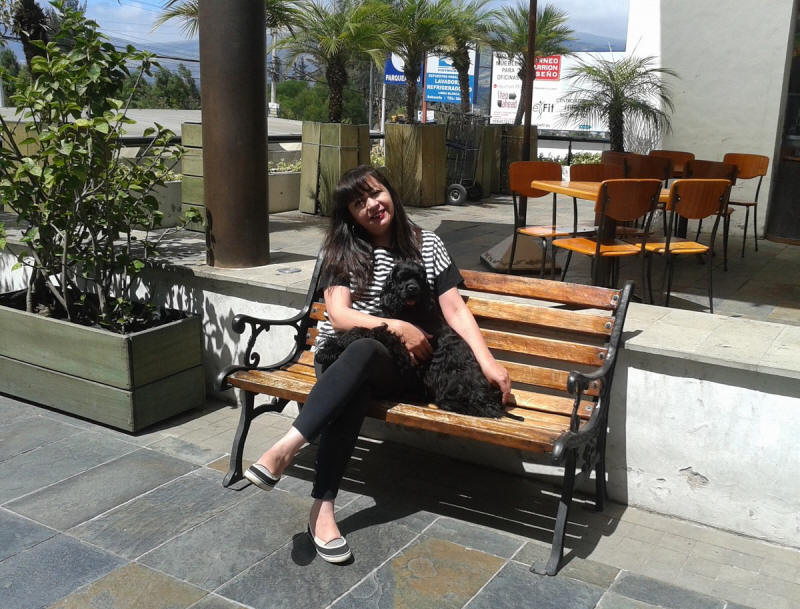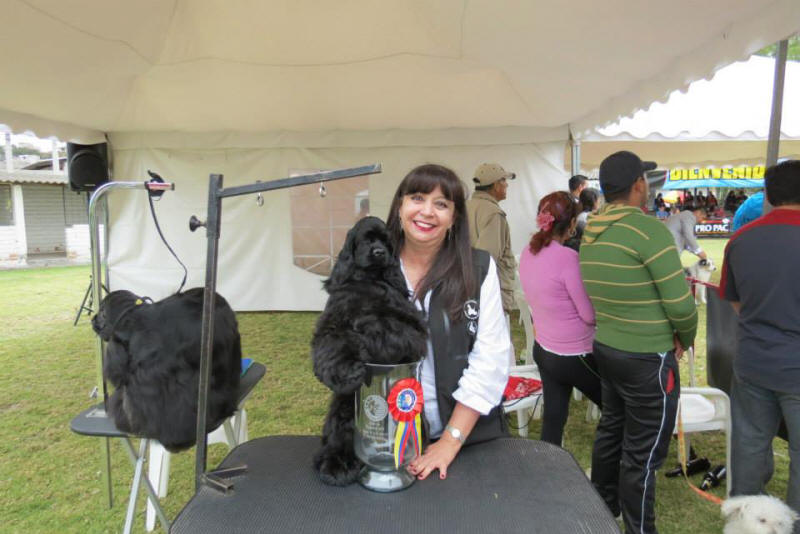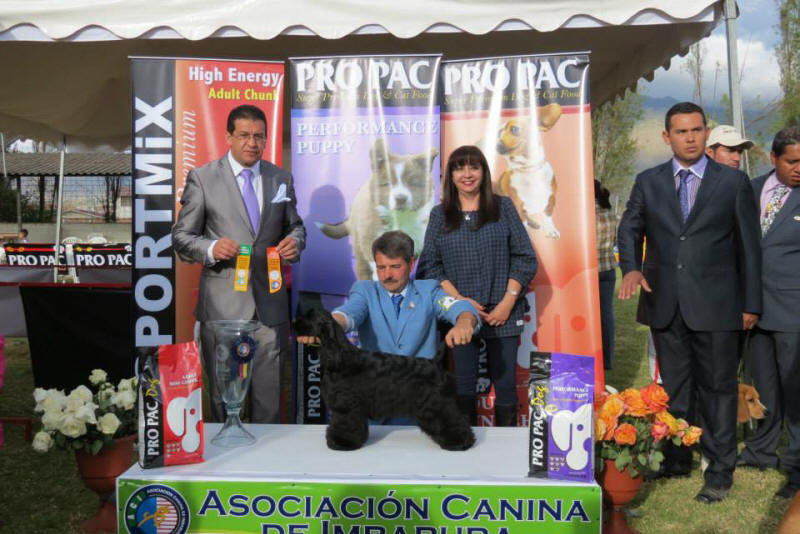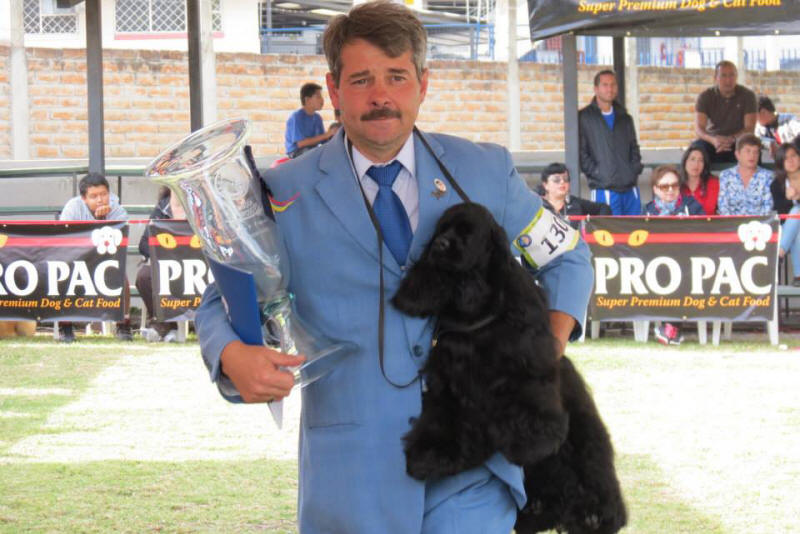 *****
We are proud to make a little "update" about our beautiful Regency son "Patrick"
TRULY YOURS ROYAL REMEMBER THE TIME
After winning several CAC´s in Denmark from Junior Class, and being awarded best junior dog at the Worldshow´s Specialty, it was time to "grow up", and
Patrick went to join Jean Ashley in Canada. In a record of time, Patrick finished his Canadian title, and came back home, old enough to finish his Danish Title…
After a short break, Patrick went back "over-there" and finished in short time his American Champion title in the hands of Marlene Ness.
Back in Denmark, shown limited, having lots of fun with this handsome boy… he is now American, Canadian, Danish, Gibraltar, Marokko and International Champion.
More shows to come in the future… Please enjoy the pictures!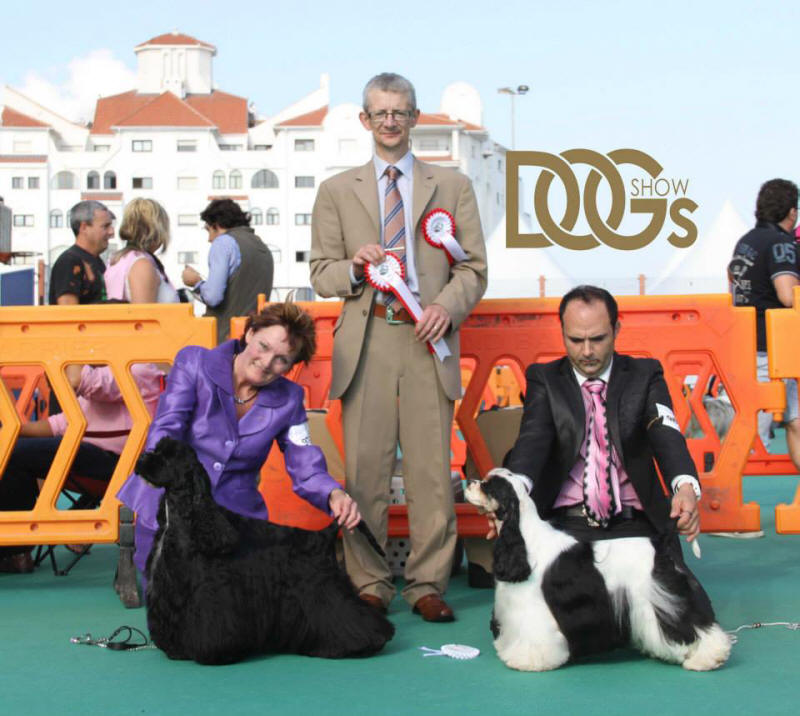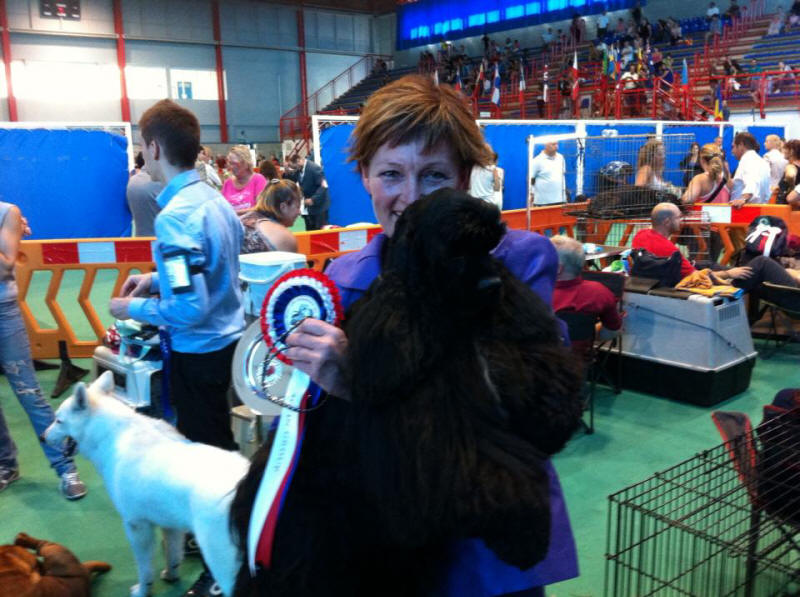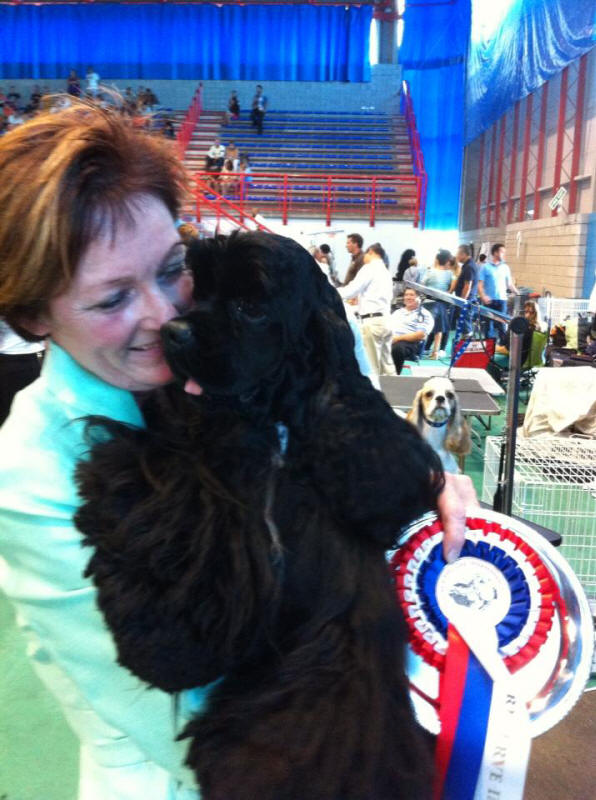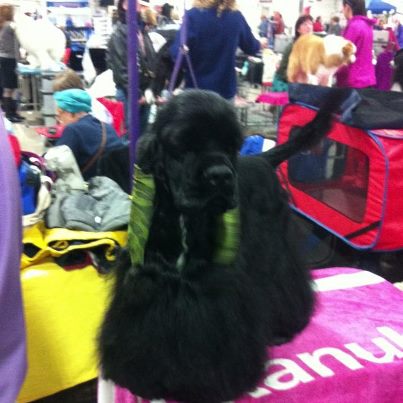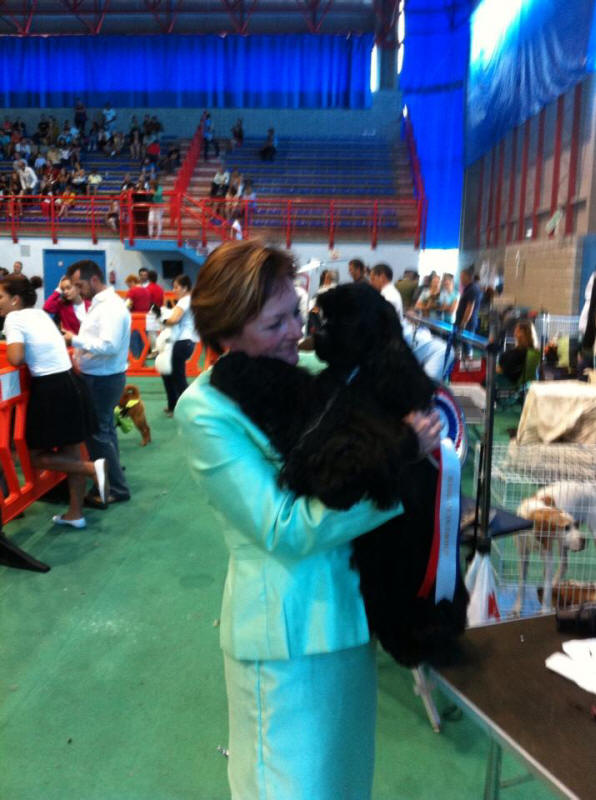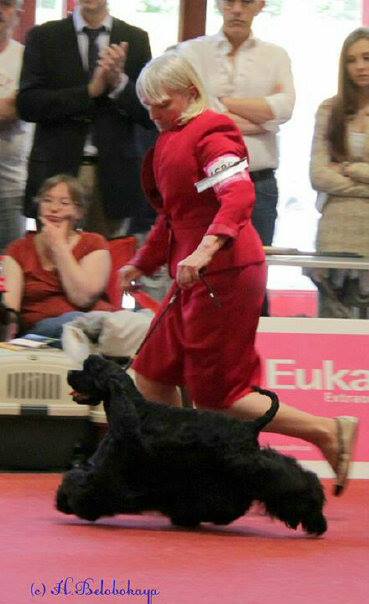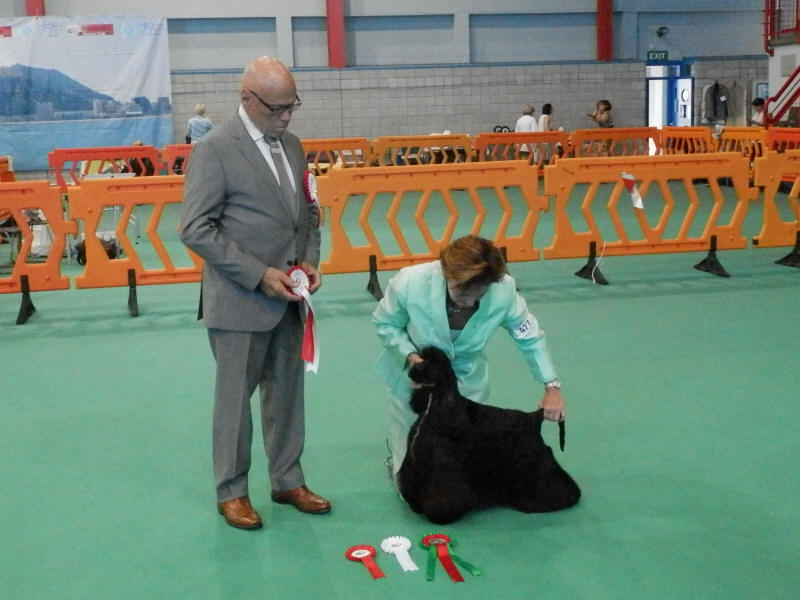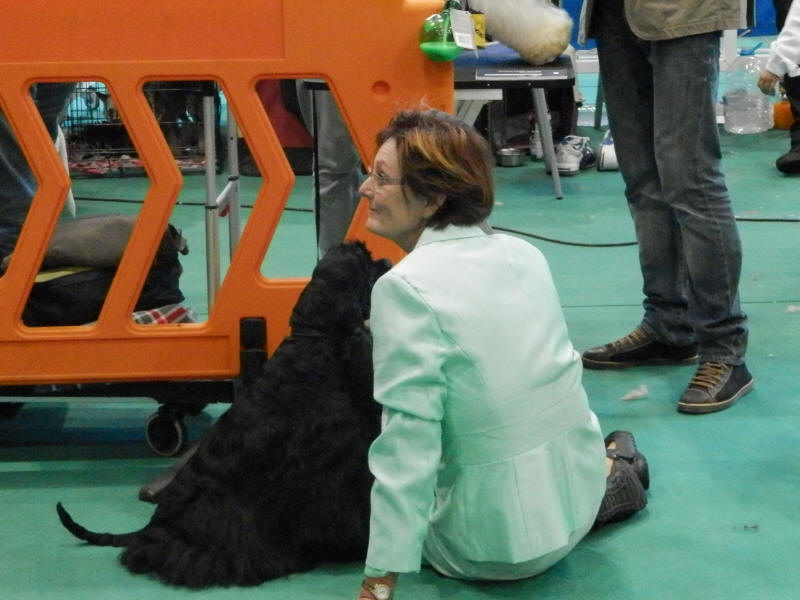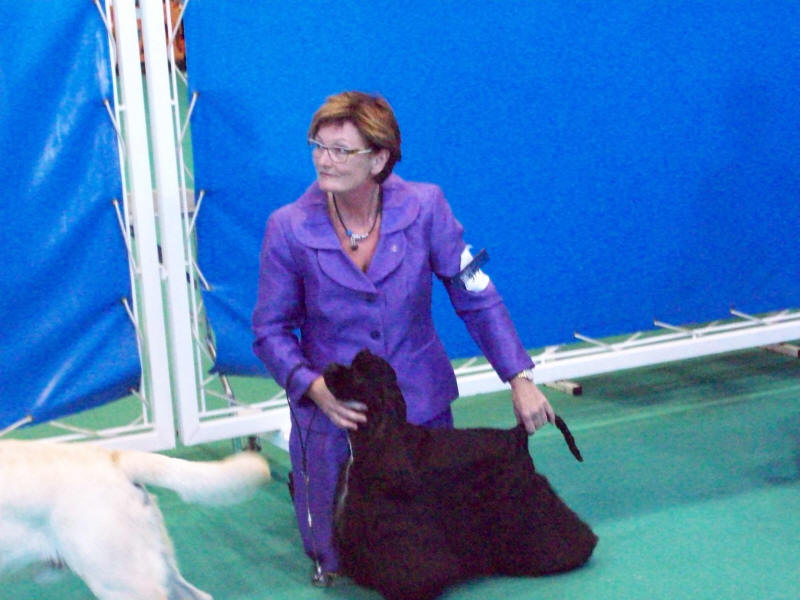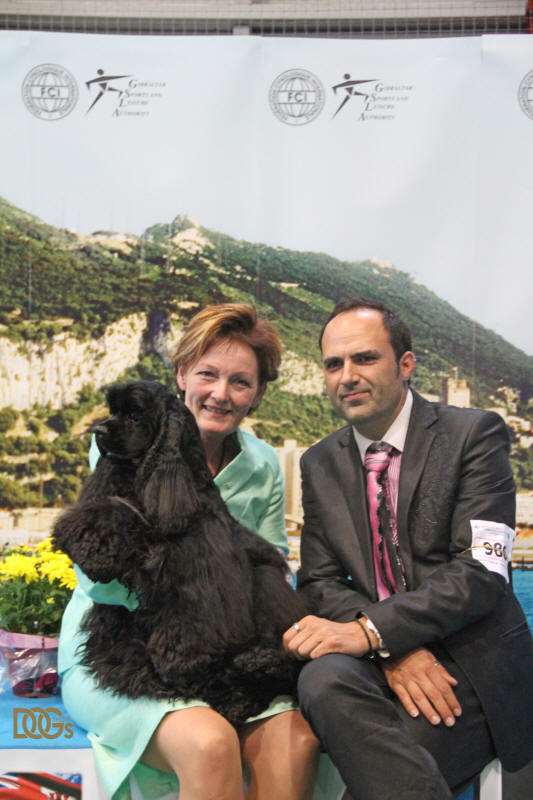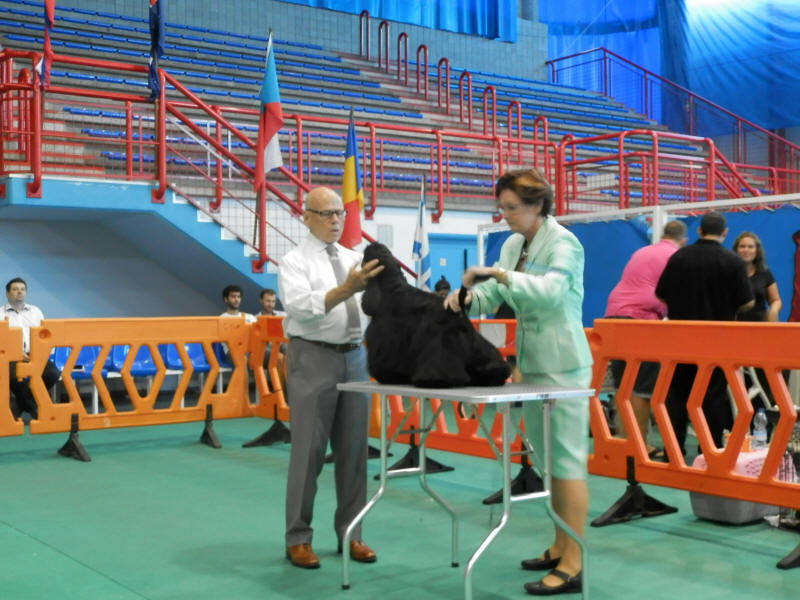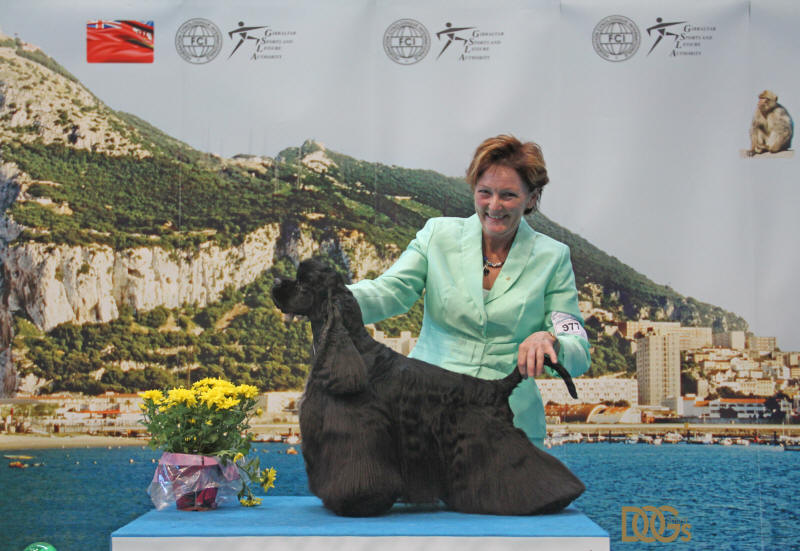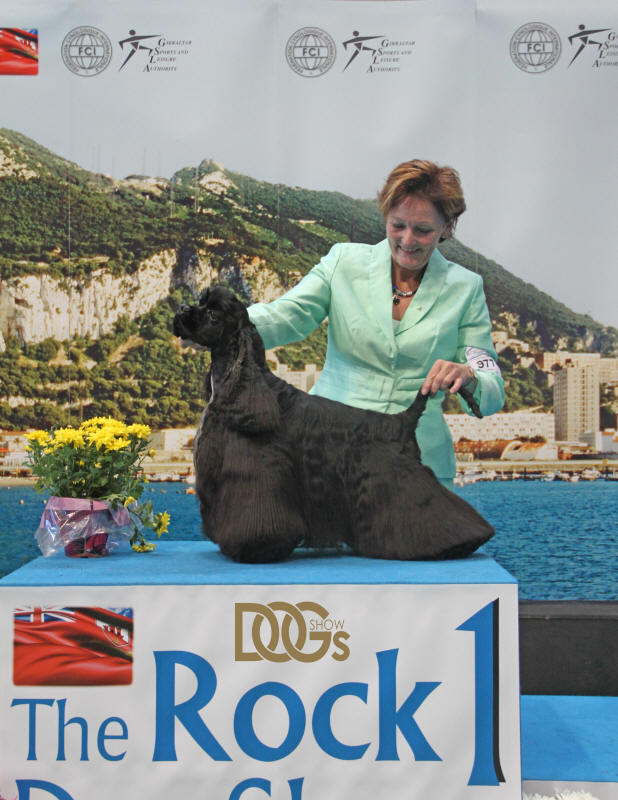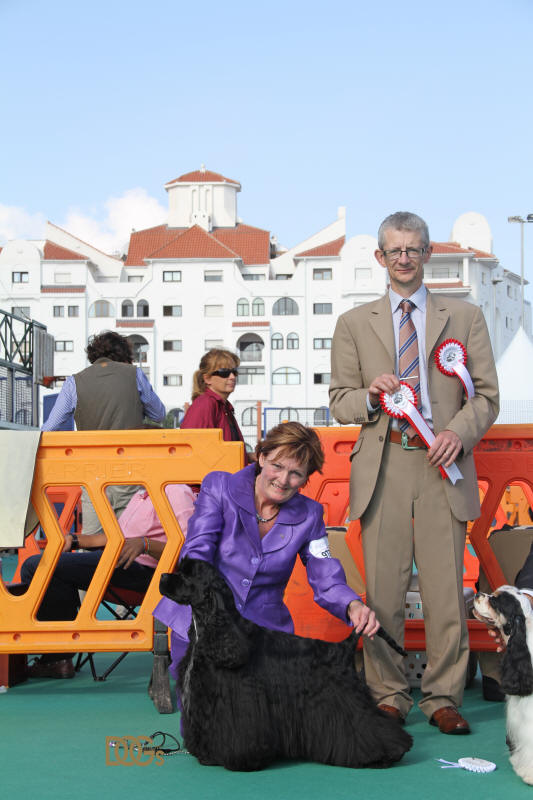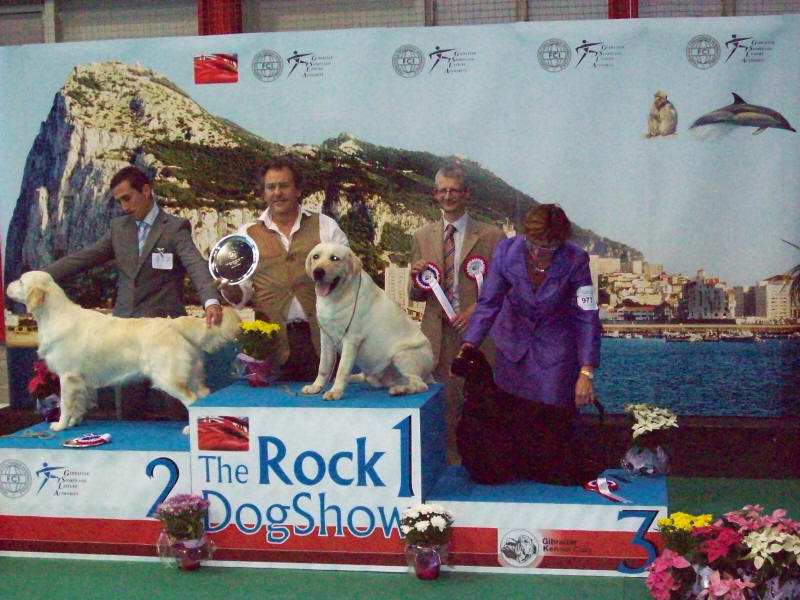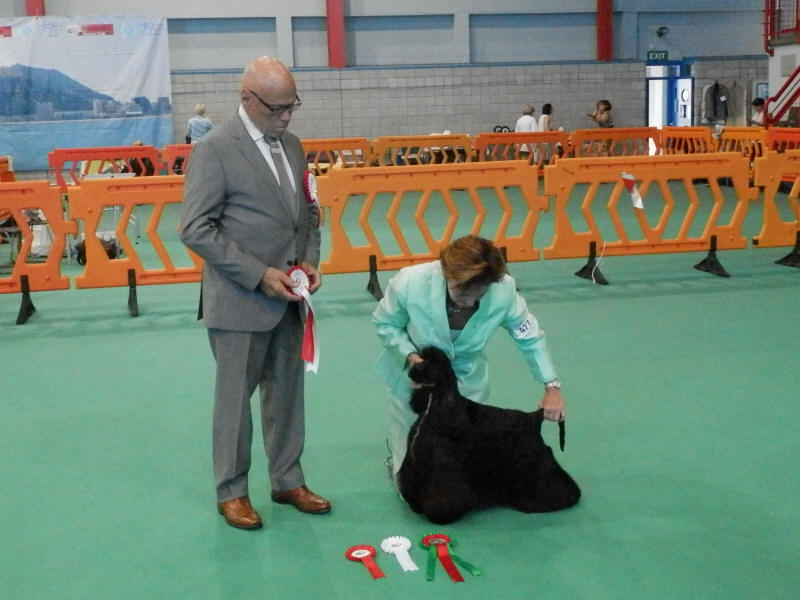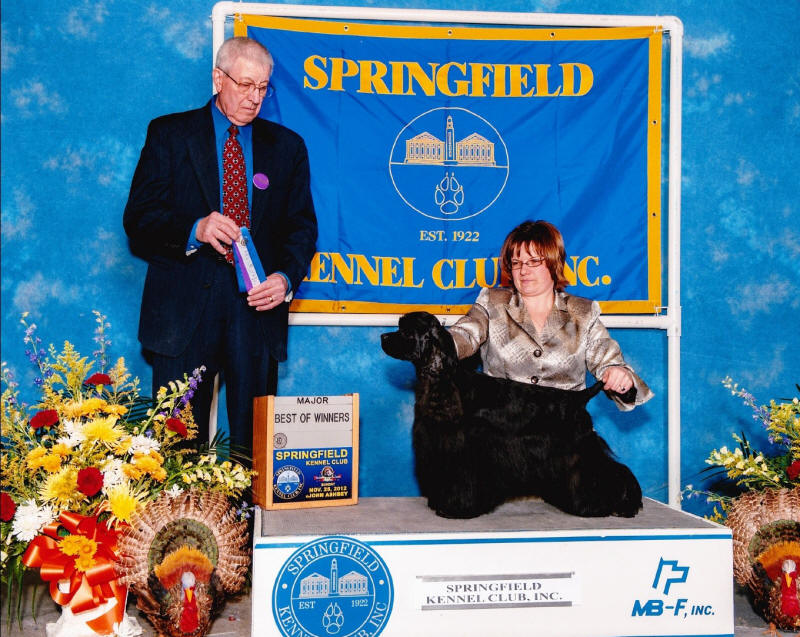 ****
Another of our succesfull boys ALBERT
Multich. Truly Yours Royal This is It
Full brother to Patrick is all a "World-traveller" He loves to go from place to place, and enjoy to meet new people all the time…
Patrick is more "mummys boy" where Albert know how to charm himself into being spoiled where ever he goes…
Enjoy the pictures…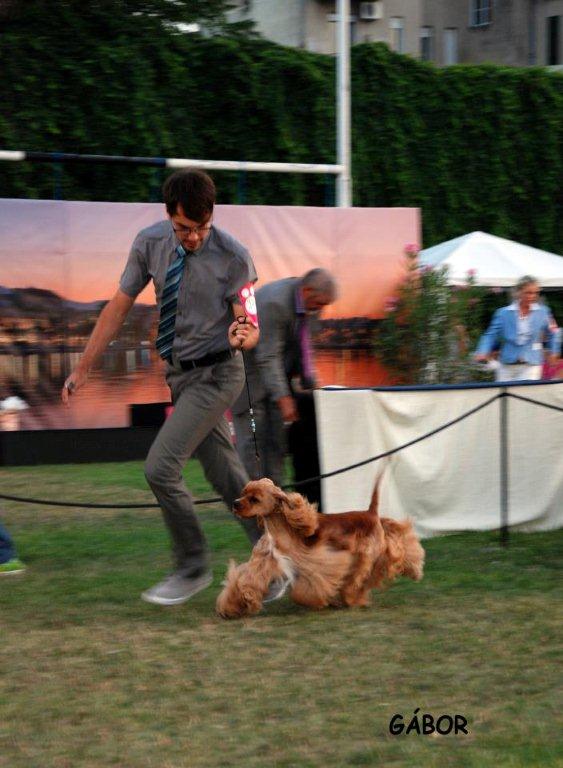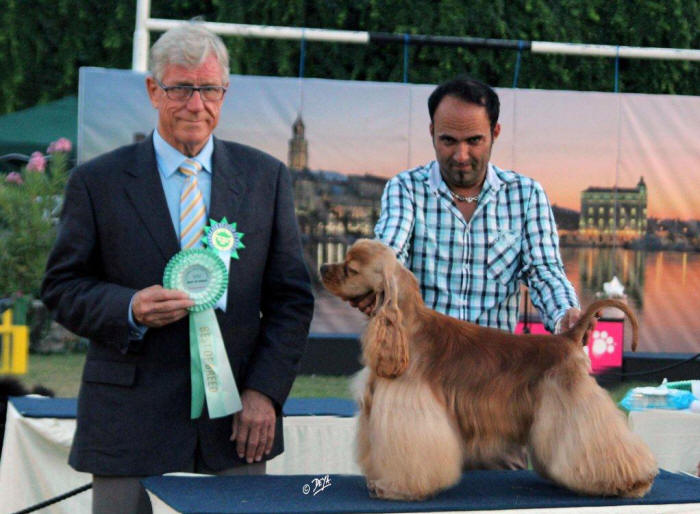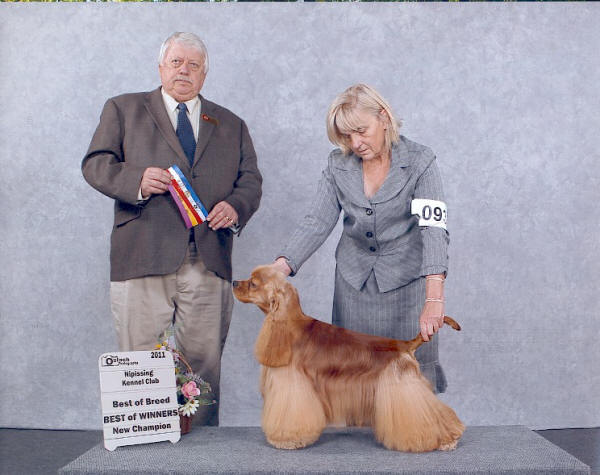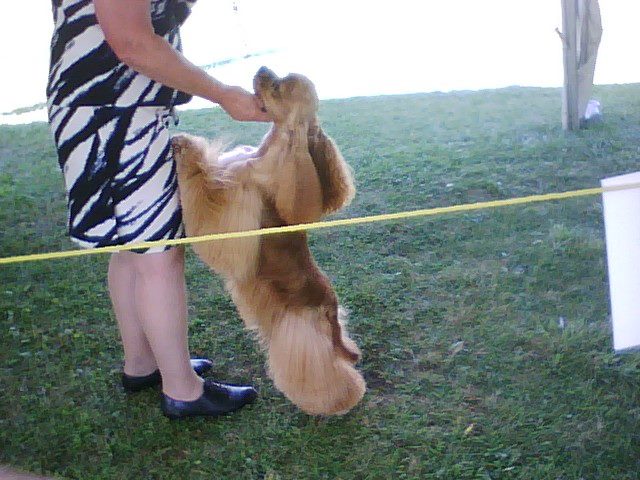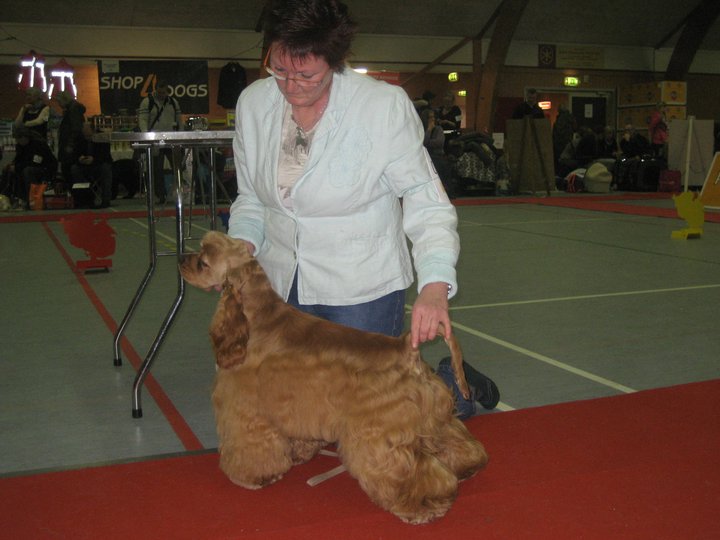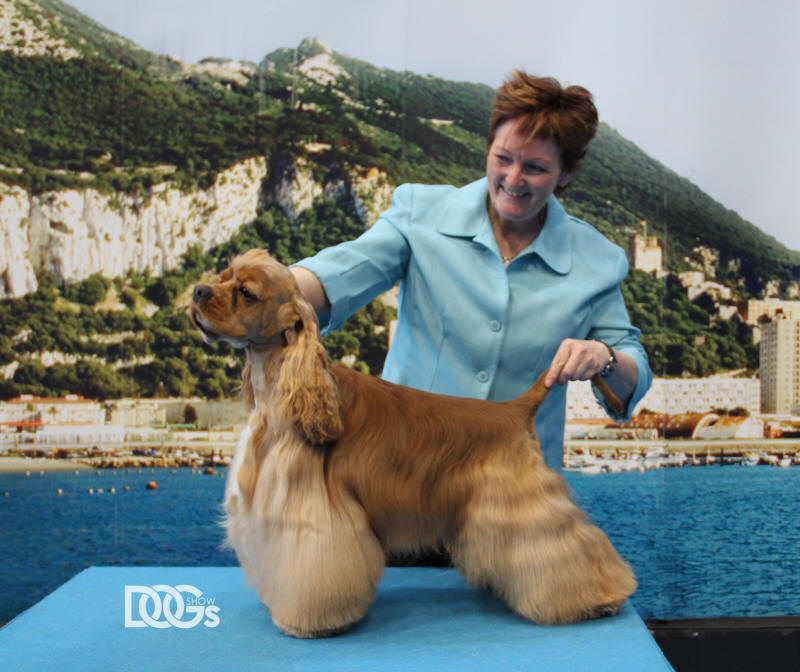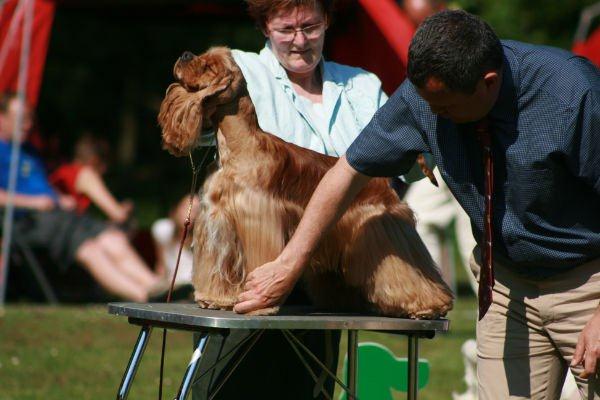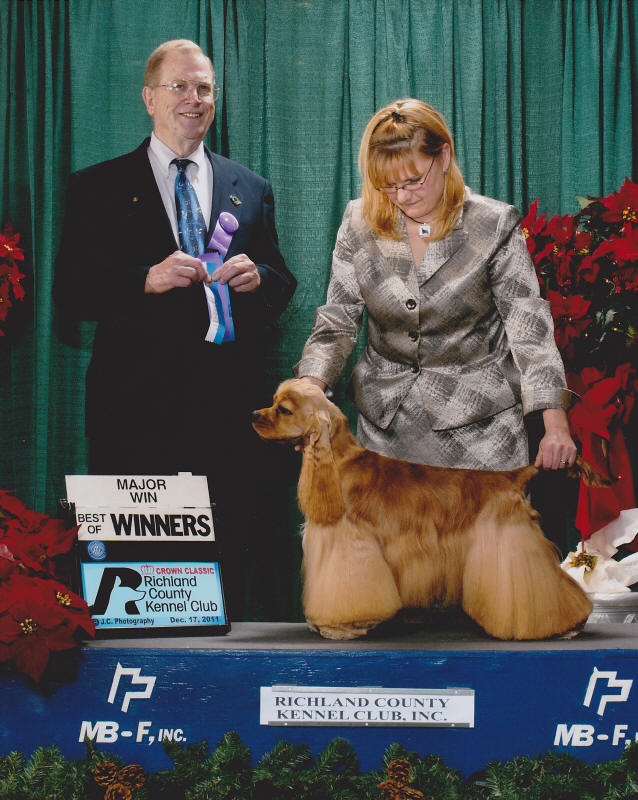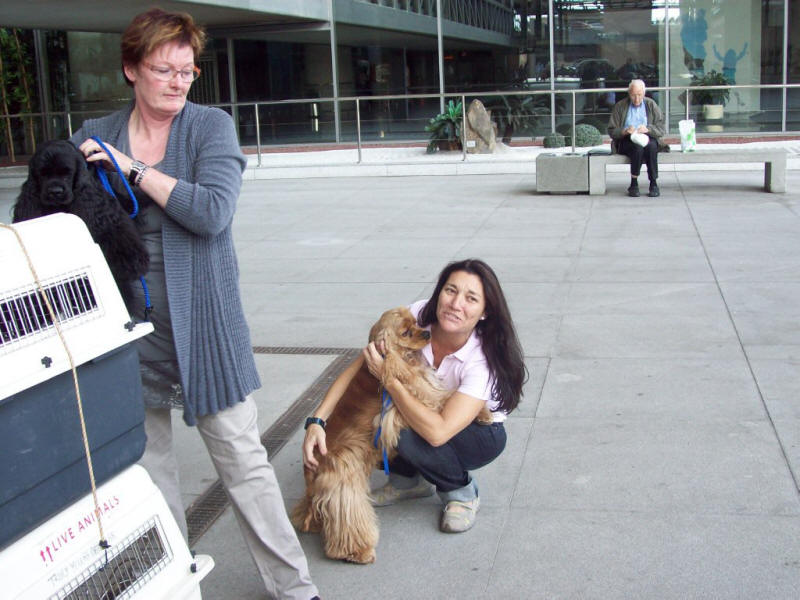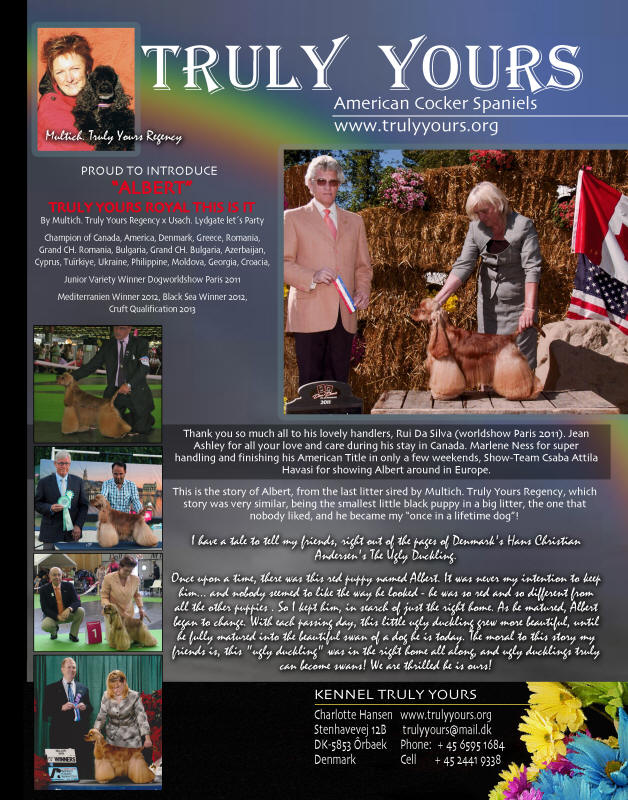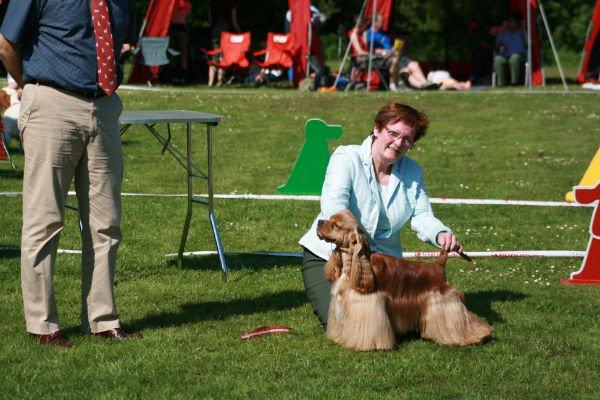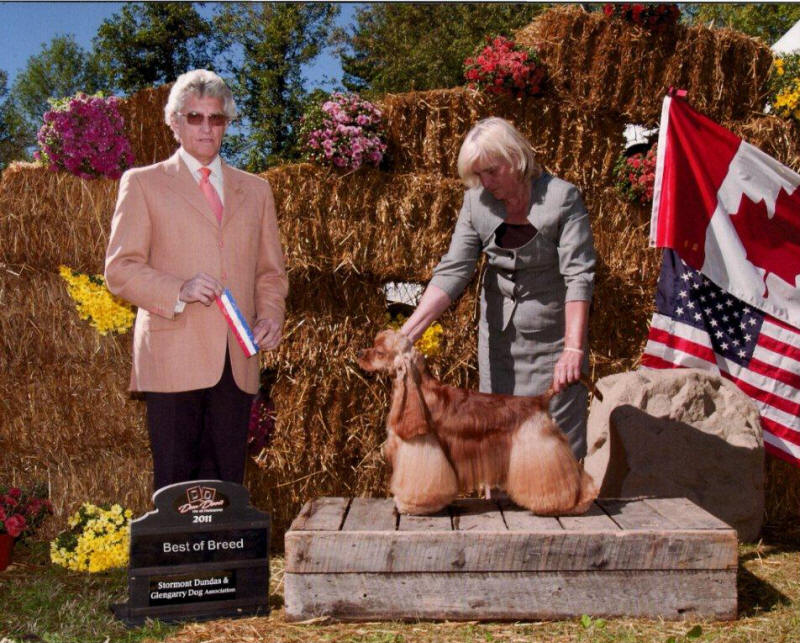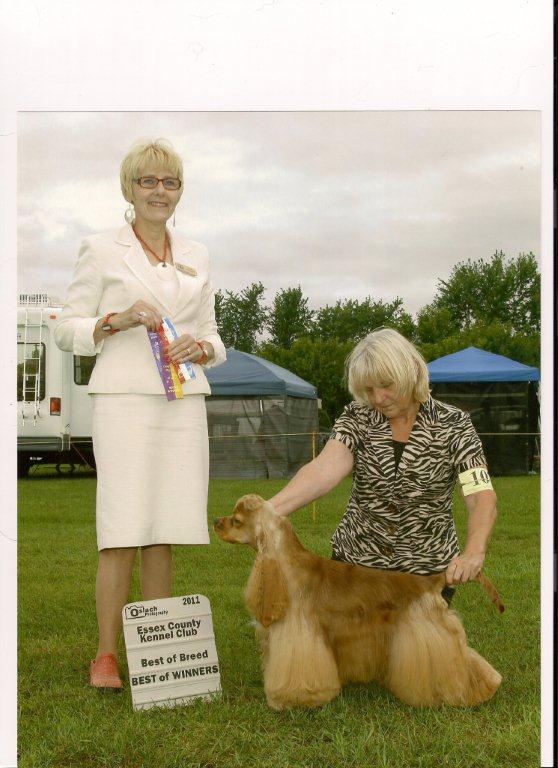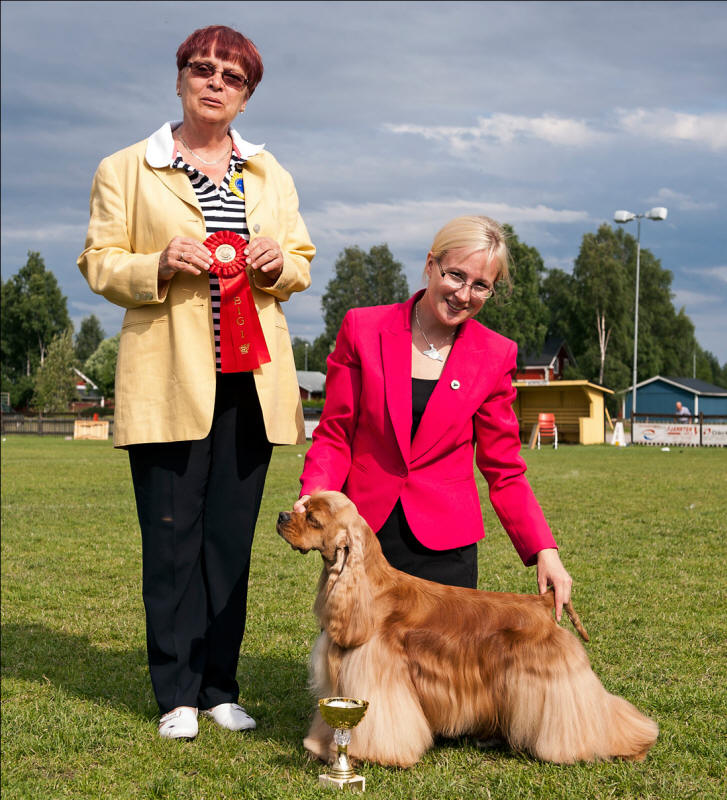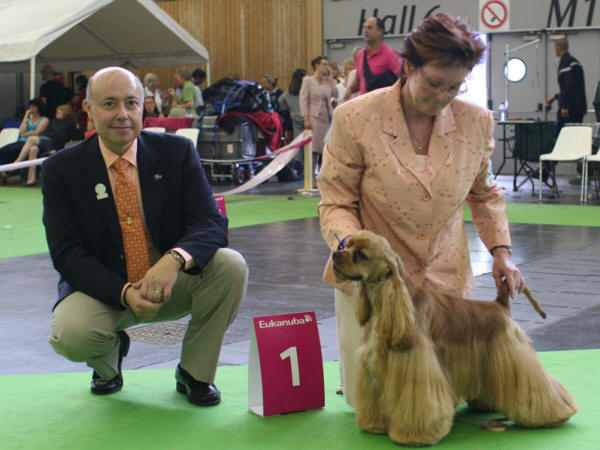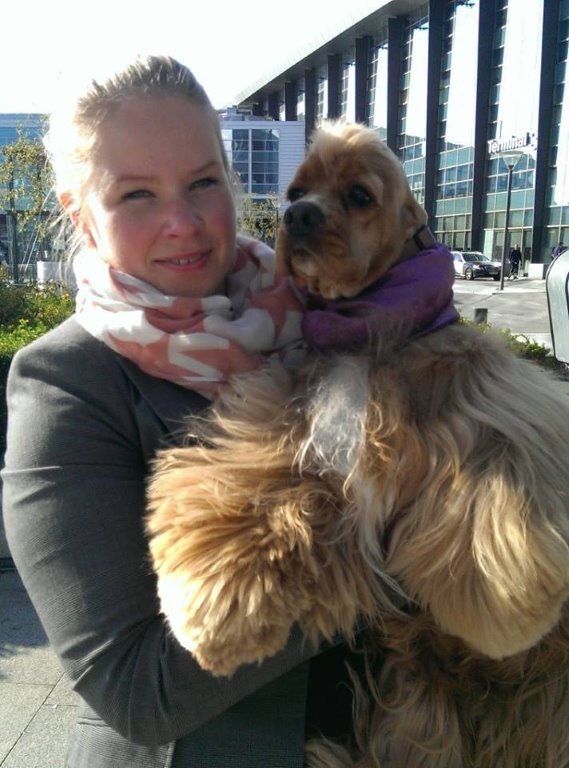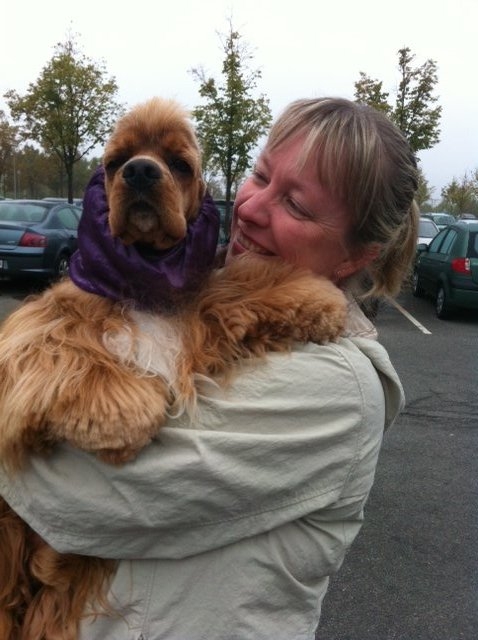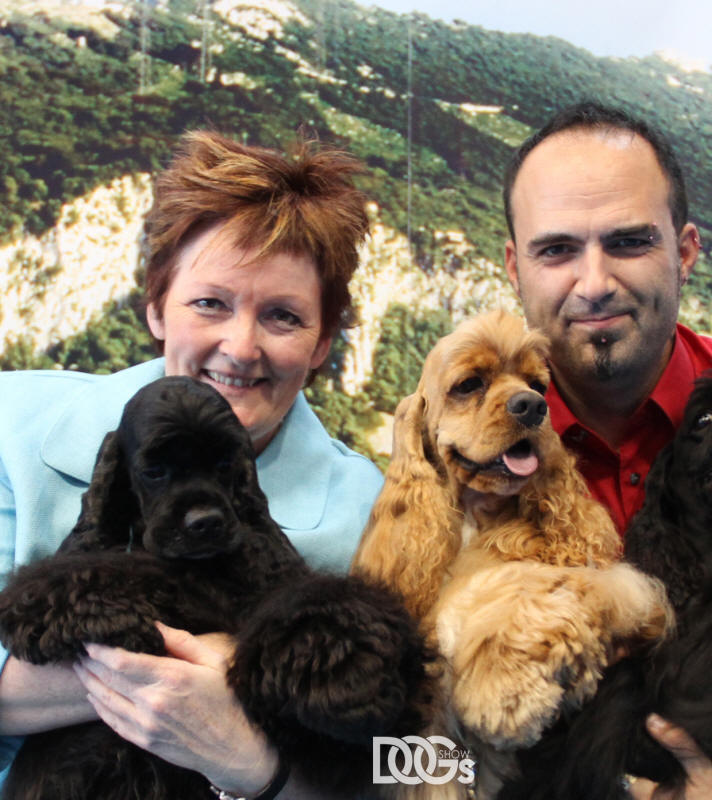 ***
GOOD-BYE HUEY…
It is always sad to say good-bye. Huey has been part of Truly Yours for many years, and we will miss this happy boy every day…
His beautiful breed type, and exceptional happy temperaments… we fortunately will enjoy generations after generations in all the beautiful offspring he left us.
REST IN PEACE LOVER-BOY!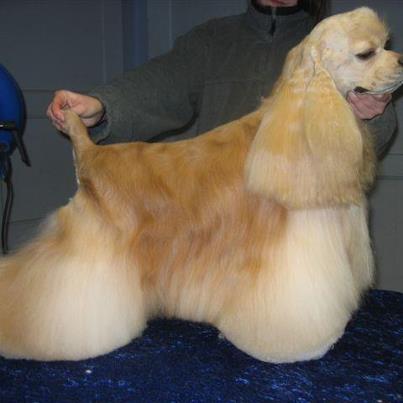 ***
MULTICH. TRULY YOURS BLACK MAGIC WOMAN

She did it again… BROOK did make history in 2012… winning at the Spaniel Flushing National show in USA… back in Europe from contry to contry winning more Champion titles than any other dog ever would dream about… I had the pleasure to receive Brook on a summer-holiday, and winning her CH title number 47 in Denmark. Later she went to Gibraltar winning BOB, another title and a Group 3. Back home with owner Csaba Attila Havasi for another few shows, before she went back to join the famous handler team Mike and Linda Pitts.

Making another record in 2013 BOS at WESTMINSTER!!!!! Thank you to BROOK and to her owner for letting me join you in this wonderful moment!

A day to remember!

***

Proud to introduce our homebreed champion number 21 to finish in USA!

TRULY YOURS SHE IS KOOL ACTION

Finished winning Best of Variety, and we want to take the opportunity to say THANK YOU to handler Lynda Mclean, and congratulations to Co-owner Margriet Reilman from Holland.

"Chiqui" will be home end of summer and we are planning her first litter fall 2013

****

It was terrible to say good-bye to BONITA, my lovely Standard Poodle.

She died a month before she would have turned 15 years old. A beautiful girl, who have been part of my life when I was living in Spain, and followed my step back in Denmark.

Knowing her was loving her, and all my cocker friends will miss her forever, so will I, and I will always carry her in my heart.

Winning BEST IN SHOW Specialty, being the perfect PET, guard dog and the perfect nanny for all the cocker babies… Today we have her daughter and grand daughter in the family to carry on her legacy.

Rest in Peace Bonita. Gone but never forgotten!

***

Truly Yours Royal Dream

Owned by Michael Hammerich, left us aswell this summer.

Beautiful top winning and Best in Show Winner!

Michael did travel all over Europe winning title after title, BOB, Groups and Best in Shows.

Her beautiful son BIS-DKCH. Ashleysown Legal Dream will carry on her legacy.

"Harry" pictured winning Best in Show this summer, handled by his owner Michael Hammerich, and pictured with Breeder/friend Jean Ashley.

***

EVERYBODY LOVES DENNIS!! Formans Heartbreaker

This lovely red/white arrived to Denmark last summer… Dennis did all his puppy-training, and once he was ready for show, he did surprise everybody entering the show-scene in great style..

Lots of fun, tons of compliments, 5 CAC, 2 BOB and 1 BOS, just too young to be a champion. Together with his breeder Denise Mangold we decided to let him go to USA to have some fun while growing up, and he is now around in the Canadian and American Show-ring with Marlene Ness.

*****
Welcome home KING! MULTICH. TRULY YOURS KING OF HEARTS
We are so happy to get our old man home again… after a longer visit to Iceland, shown and winning his Icelandic Champion Title,
And produced a few litters, it was time to come home.
Thank you to Svana and Tryggvi Kennel Dropastein, for all your love and care to King during his stay in Iceland.
Just turned 8 years old, and produced some nice champions… and we are looking forward to see his new offspring in the future.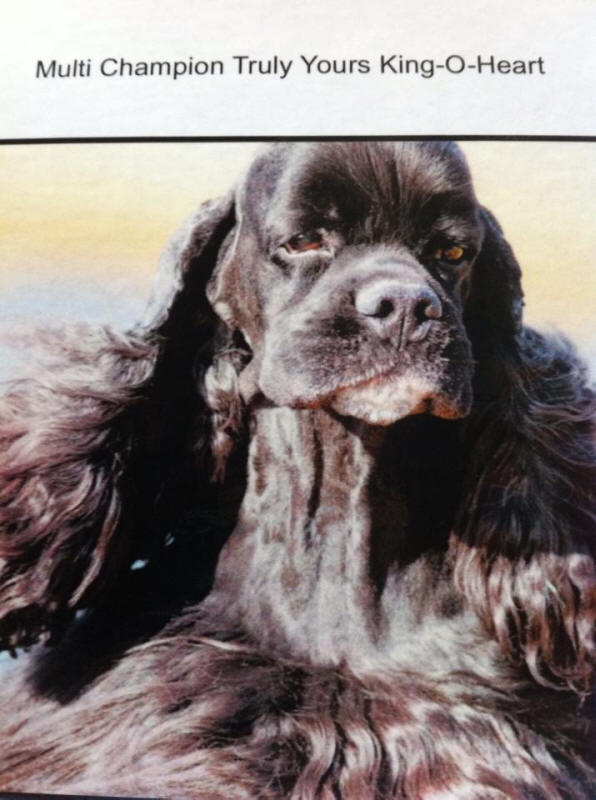 ***
Multich. Truly Yours Royal Secret
This special girl had an stunning year 2012, after winning Best Bitch at Crufts, and travelling forth and back with her co-owner Rui Da Silva to finish her English Show title.
With the titles Champion of Denmark, Sweden, Norway, Nordic, Luxembourg, Spain, Portugal, Gibraltar, Belgium, Holland, England, International,
Secret went to USA to join Marlene Ness. In a record of one weekend, she finished in Canada, and in a few weekend she was done in America aswell!!
Time to be a mother, and breed to the Top Dog in Canada All time, she had the most beautiful baby-boy that we soon will see in the ring.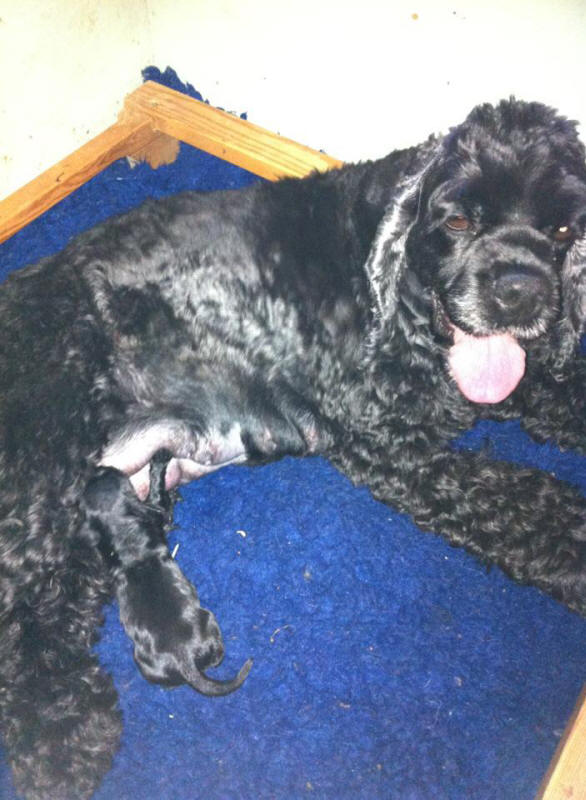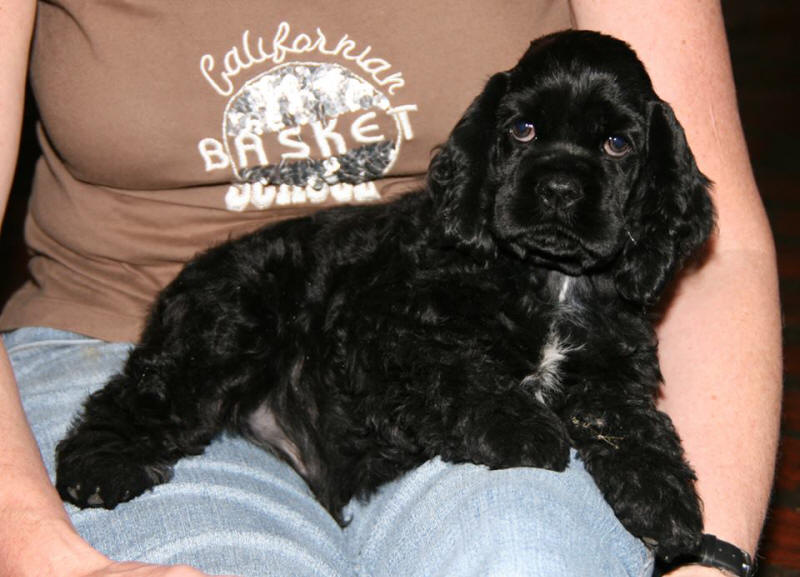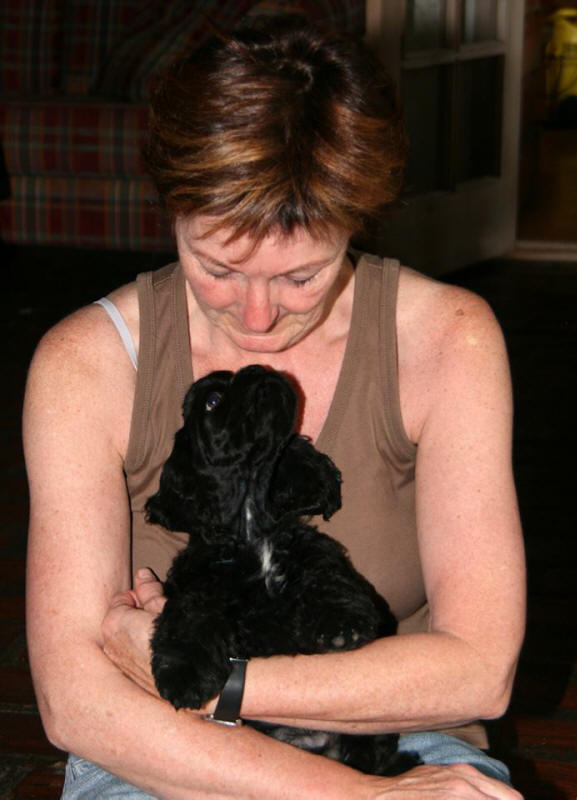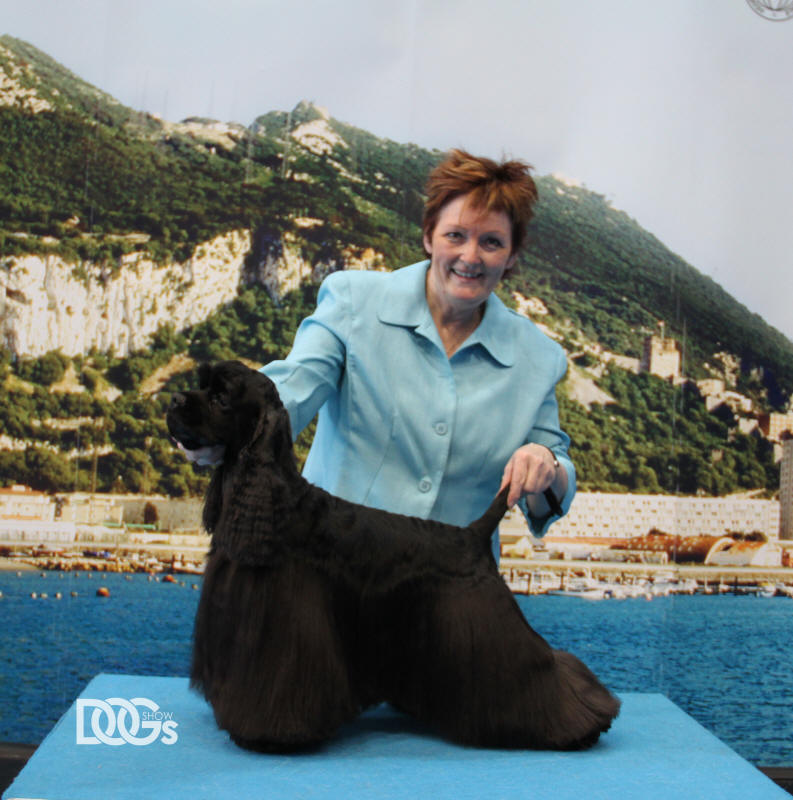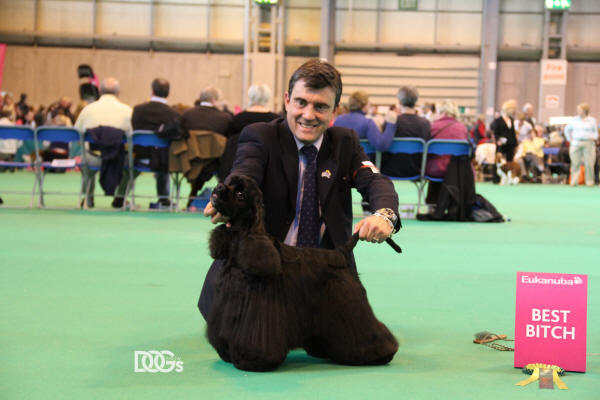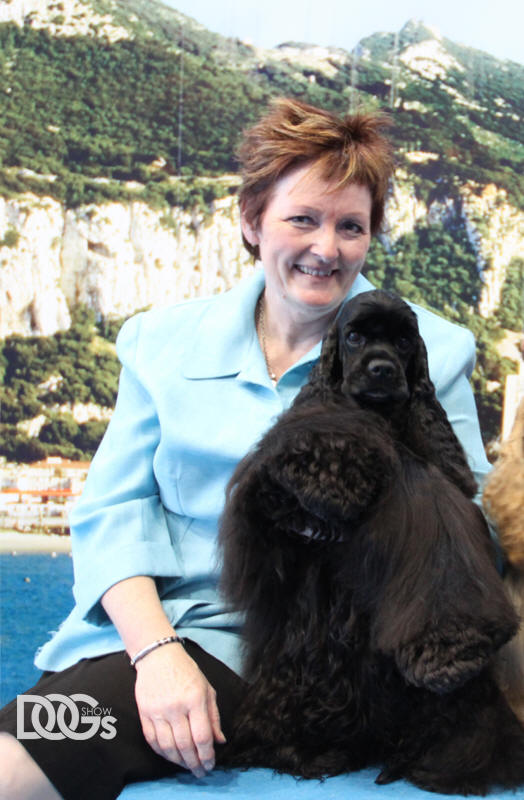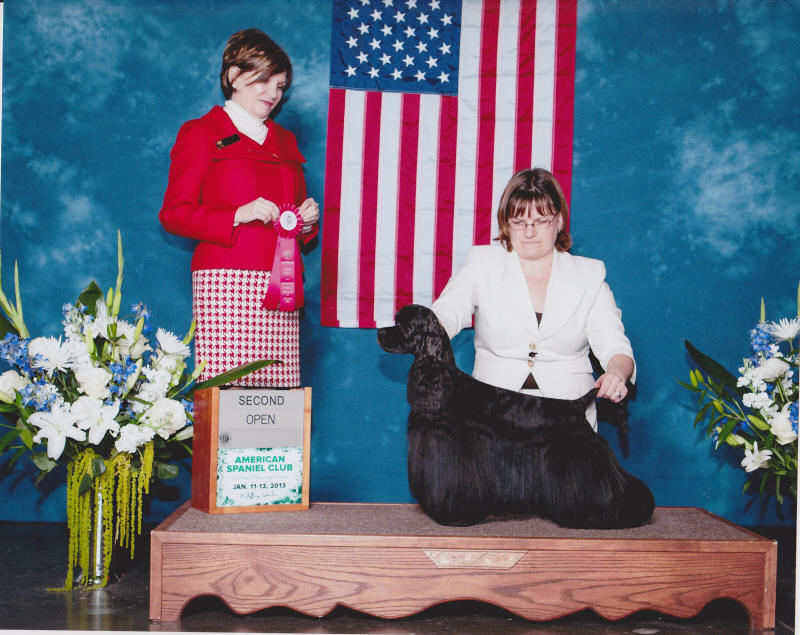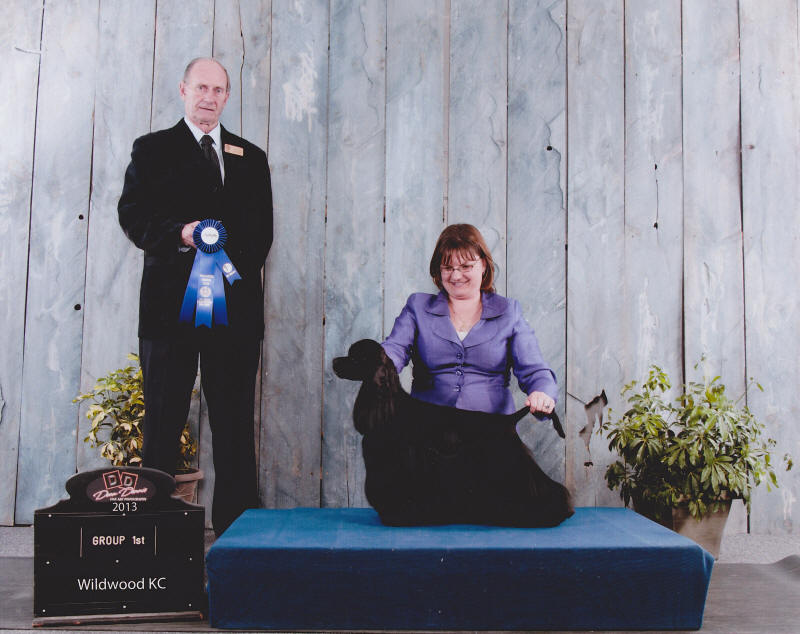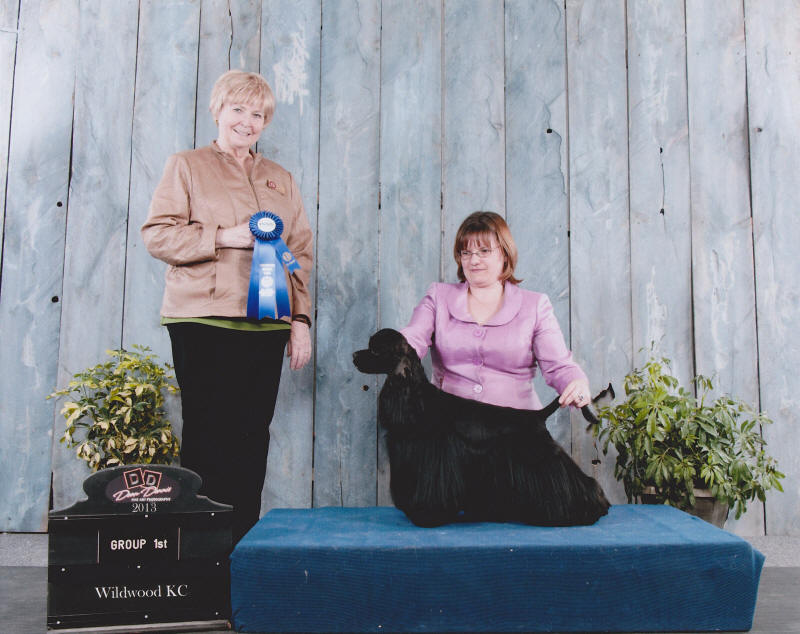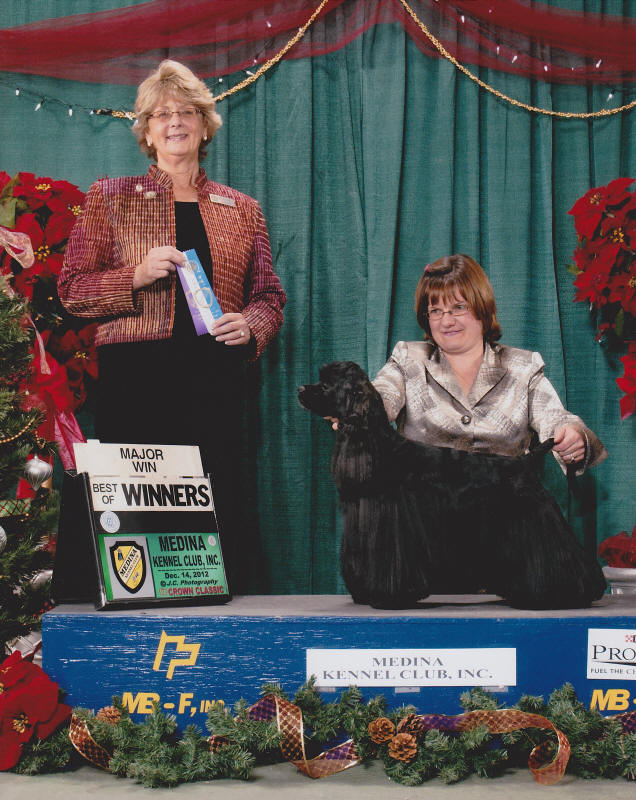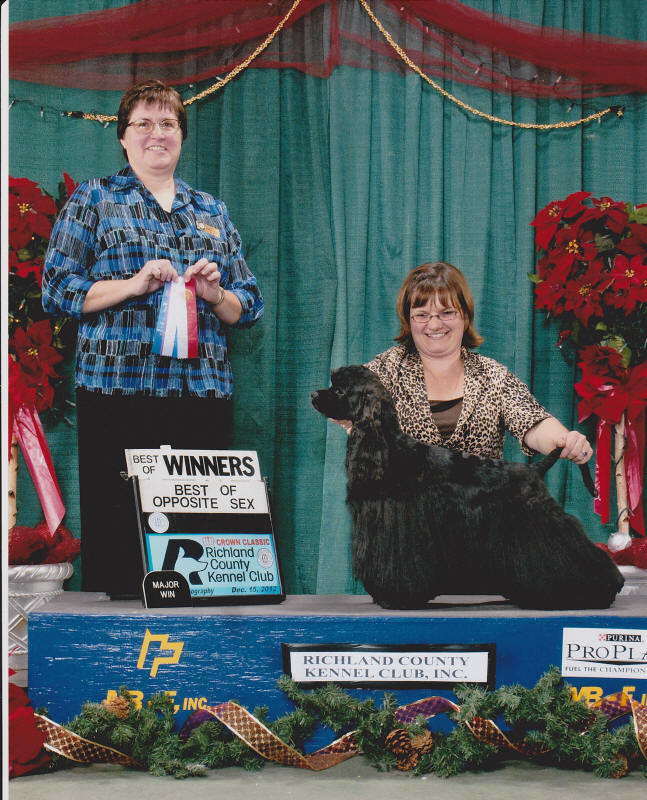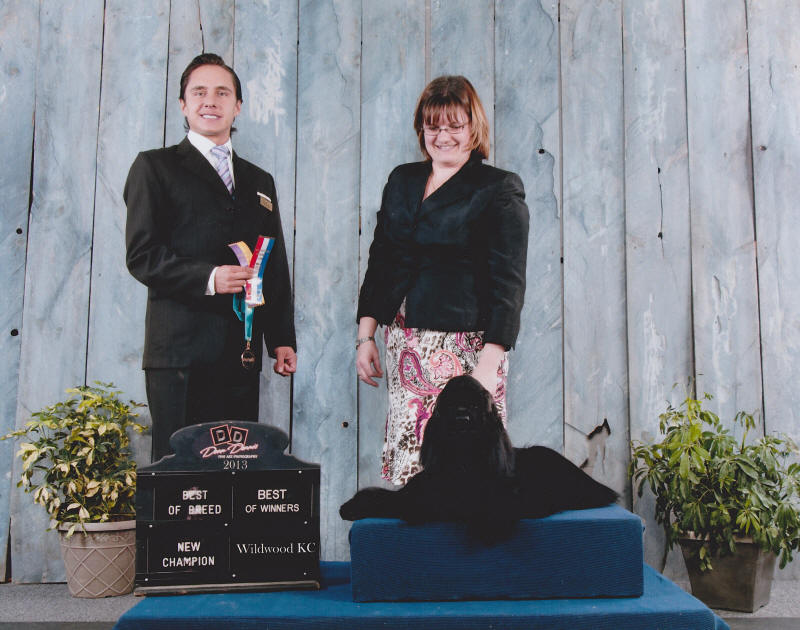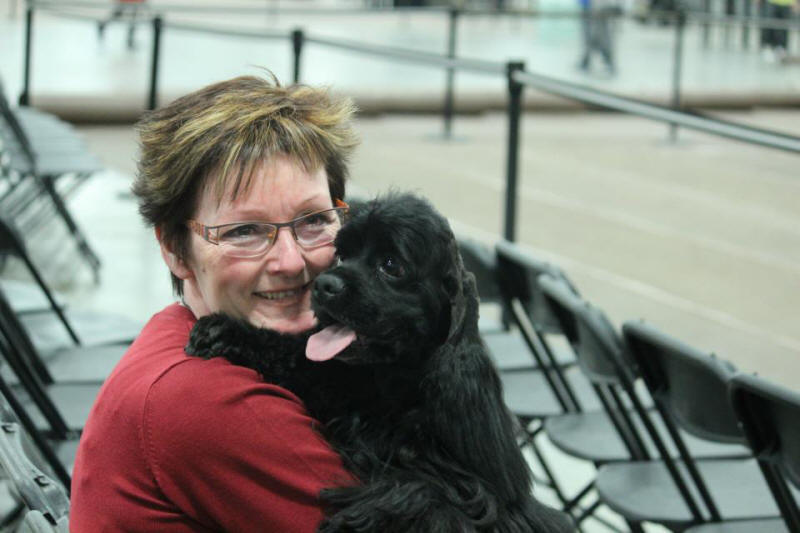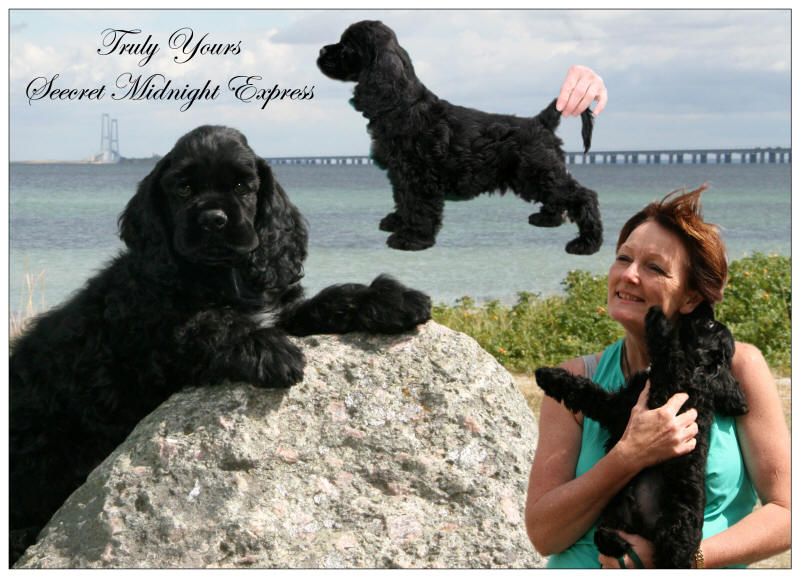 *****
Proud to introduce our new DANISH CHAMPION
Truly Yours Private Happiness
By Multich. Truly Yours Royal Happiness x USACH. Lydgate Let´s Parti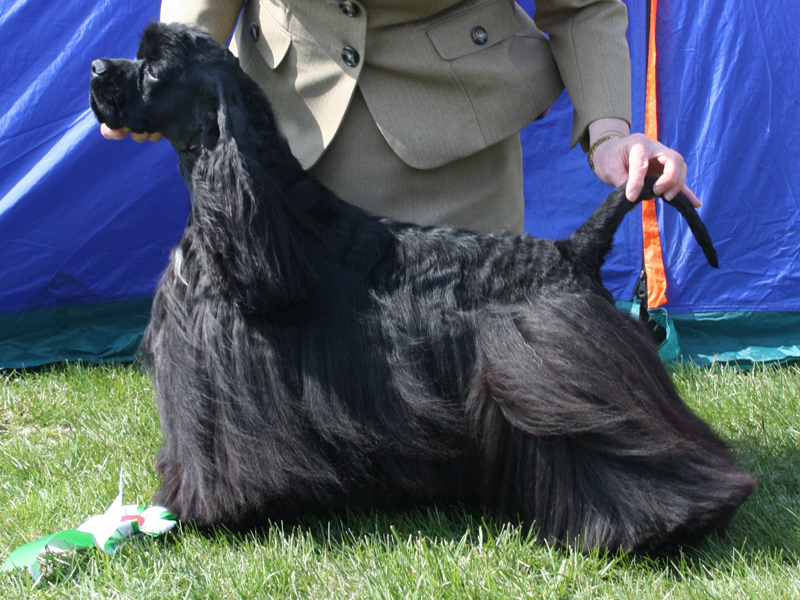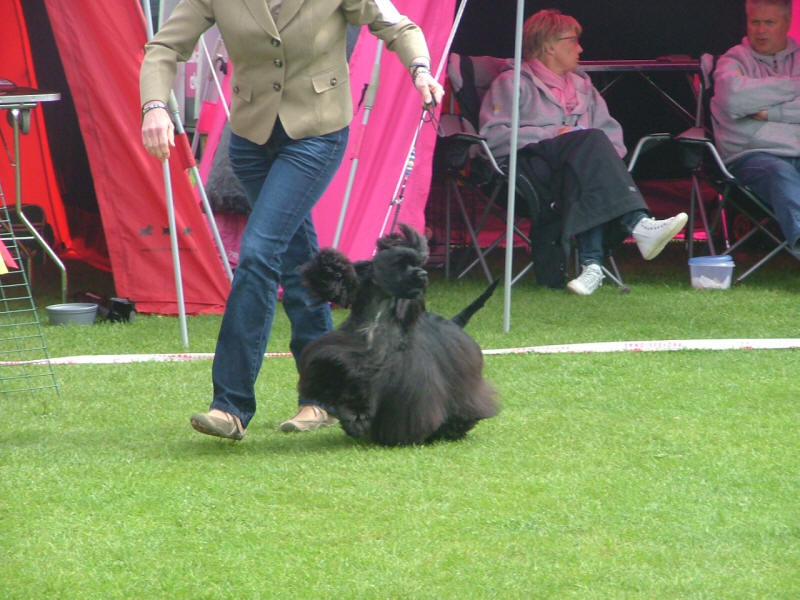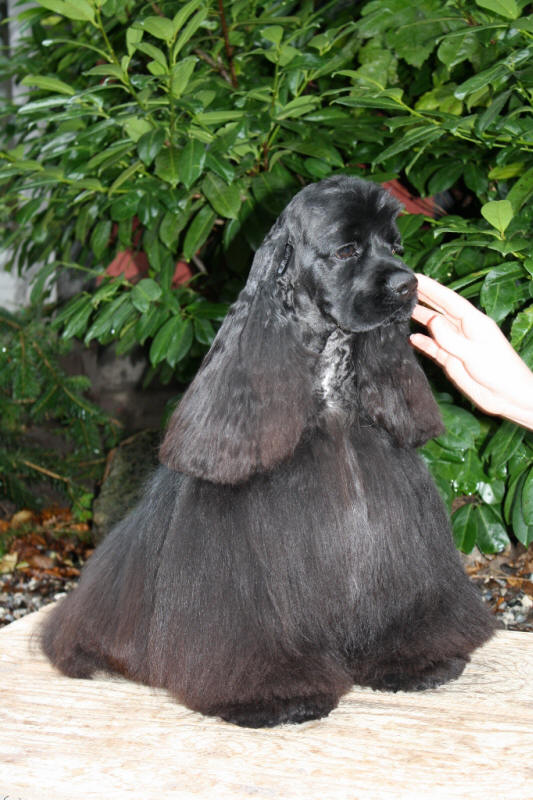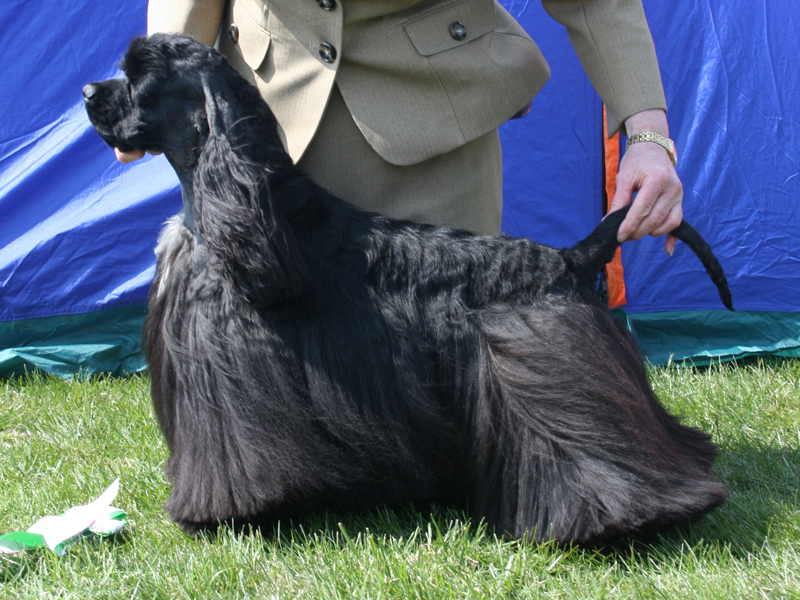 ***
Proud to introduce our new CANADIAN CHAMPION
Truly Yours King Of Jazz
By Multich. Truly Yours King-of-Jazz x Silverhall Sunkist
Shown by Jean Ashley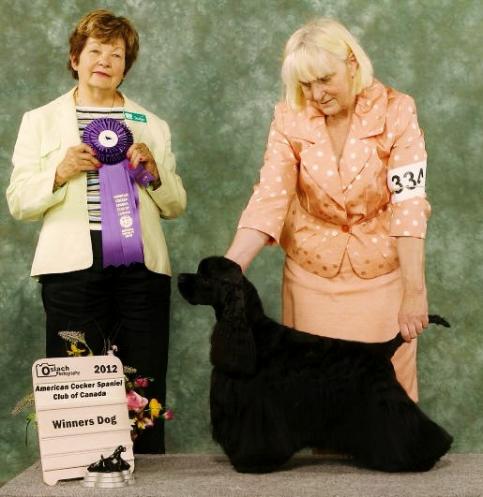 ****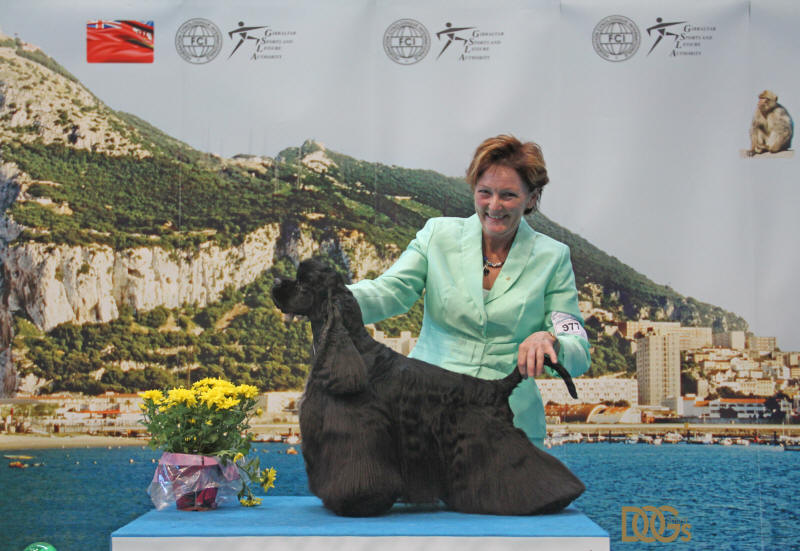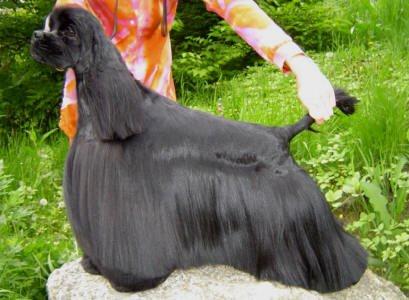 USACH. CANCH. GIBCH. MAROK CH. DKCH. DKCLUB. INTCH. RUSCH.

Truly Yours Royal Remember the TimE Truly Yours Queen-O-Hearts
We proudly present the two girls from this stunning combination: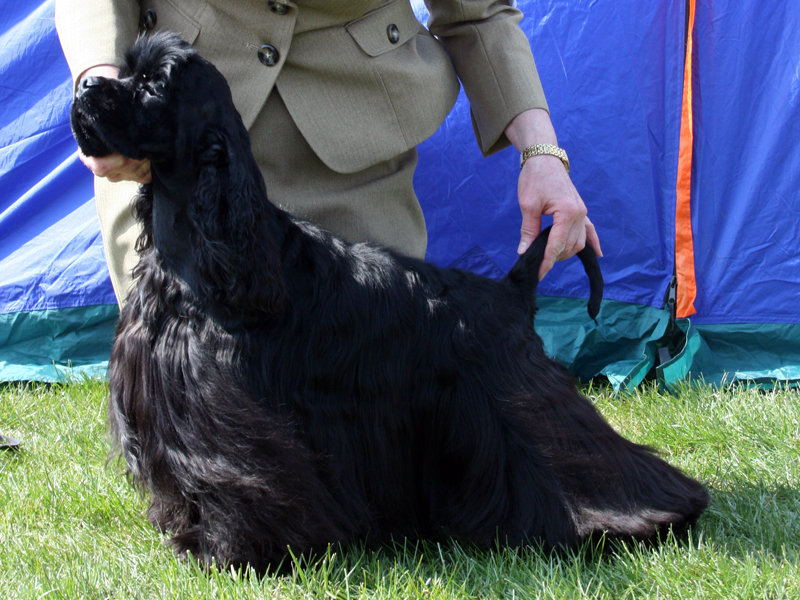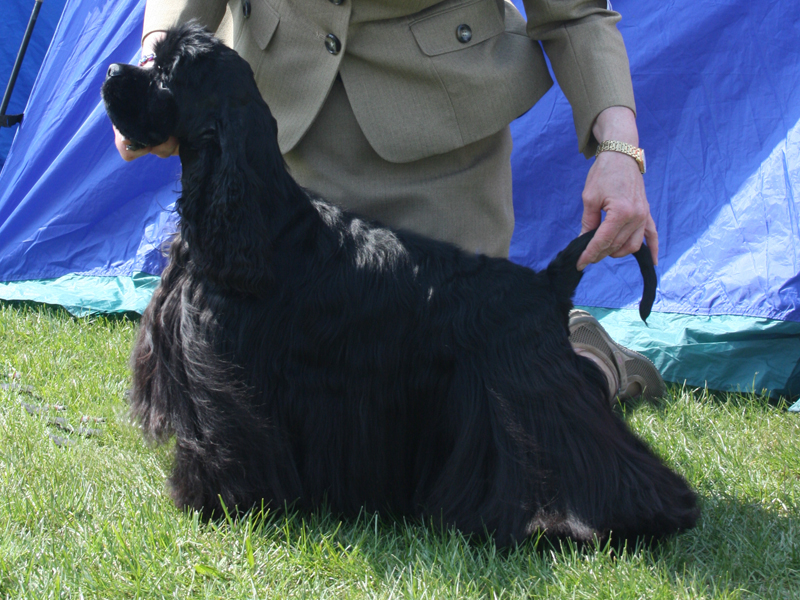 Truly Yours Remember Forever
and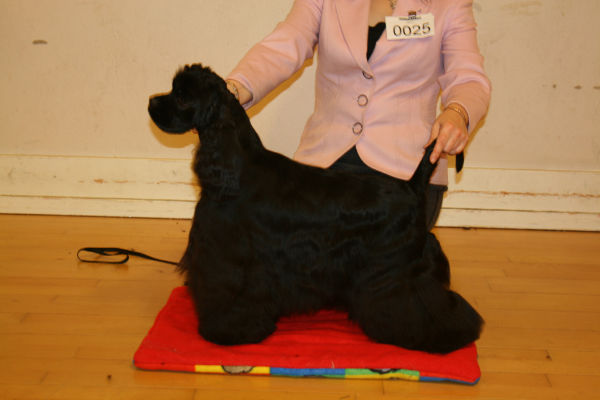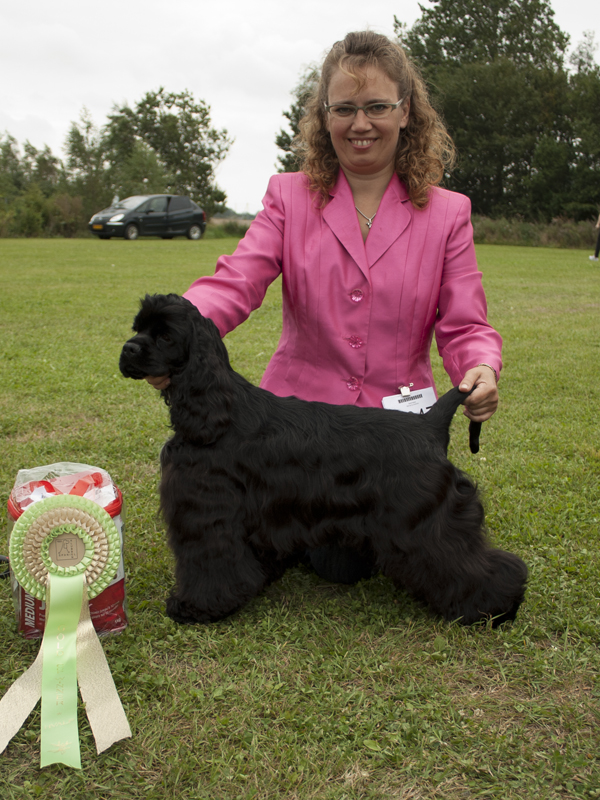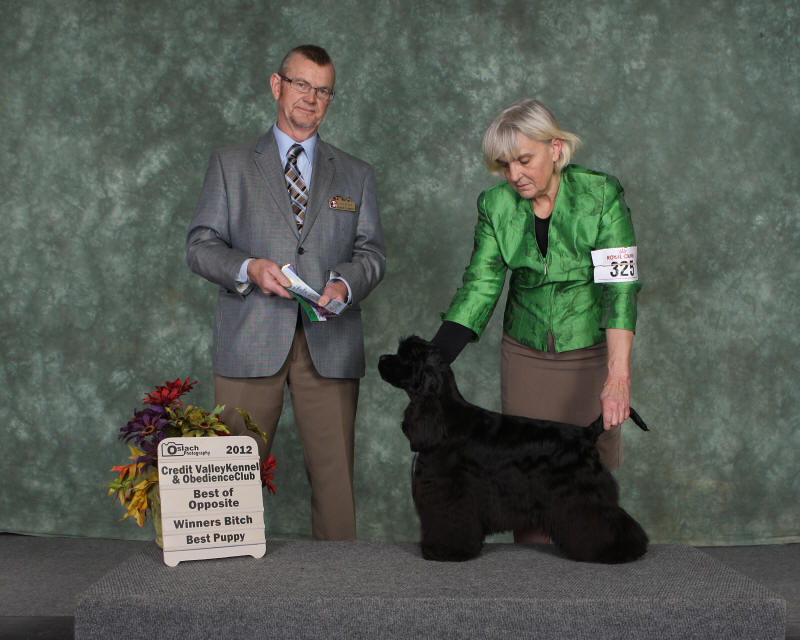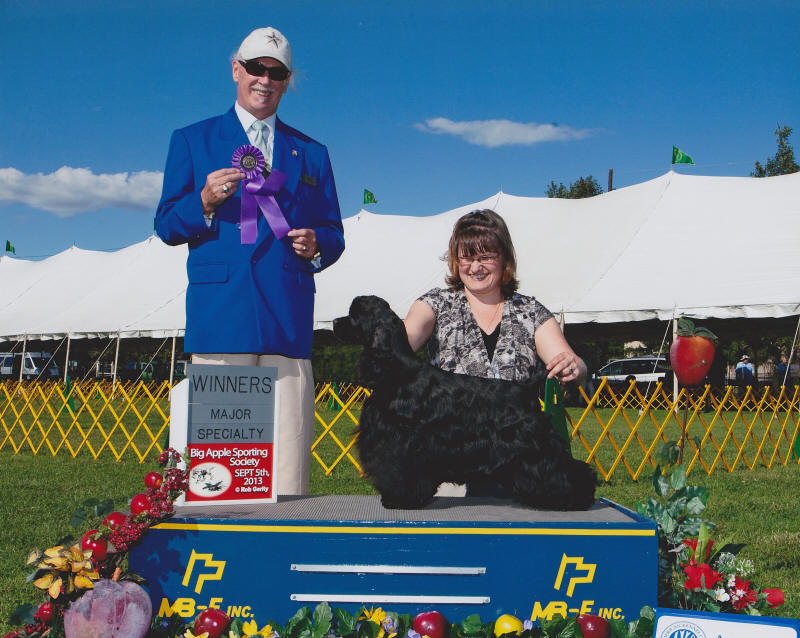 Truly Yours Remember the Hot Stuff
Now campaigned in Canada by Jean Ashley and in USA by Marlene Ness
*****
Ashleysown Crown Royal "MONA"
Is back in Canada with owner Jean Ashley.
We are very thankful to have been able to lease Mona for 2 outstanding litters.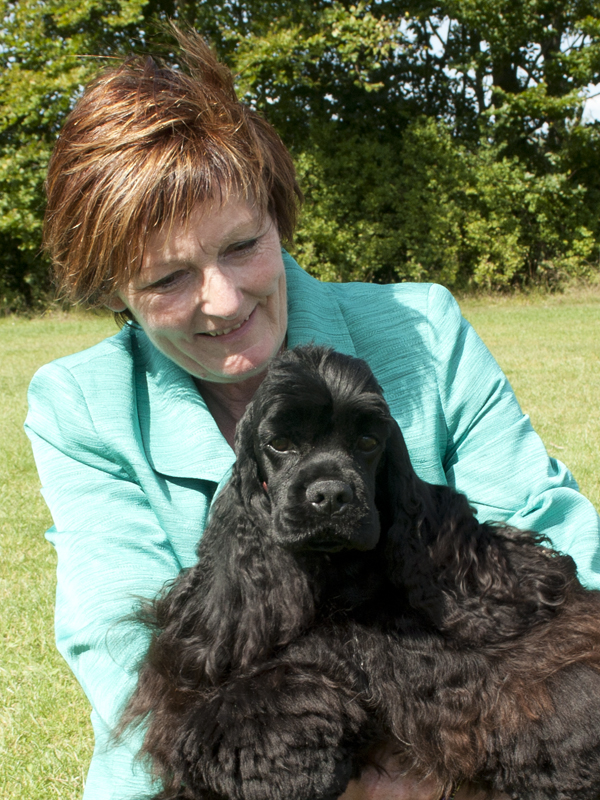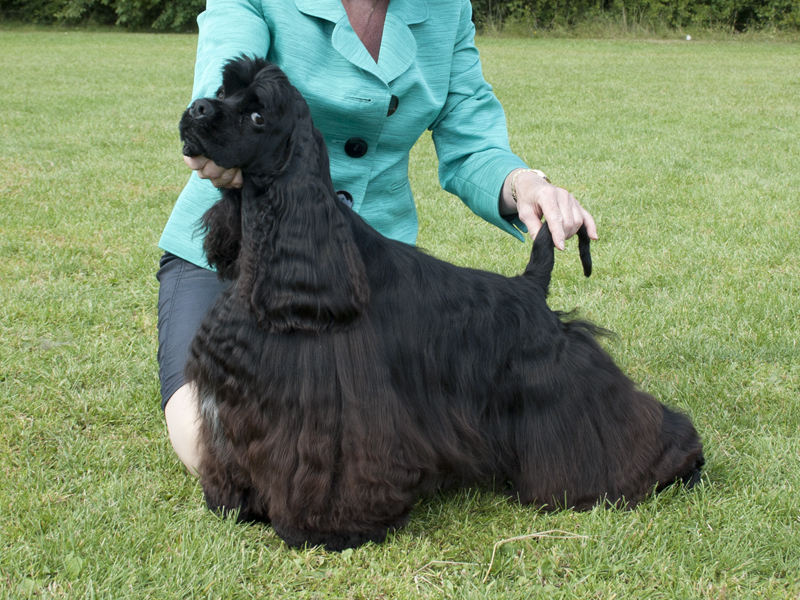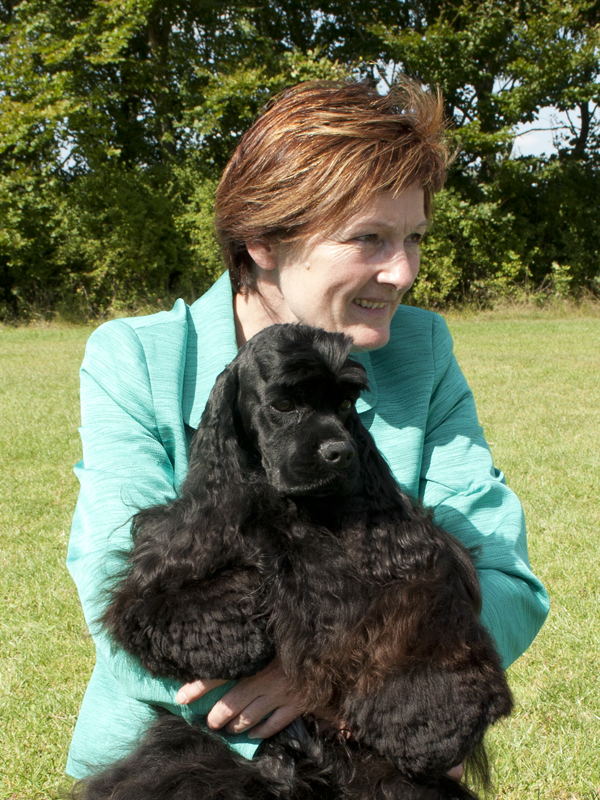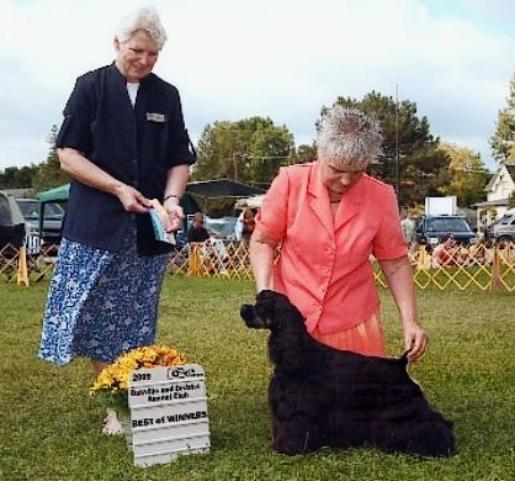 She beame pregnant last summer with our all time favorite dog from USA, CH. Tis Lydgate Legal Issue "CHAD"
She had 3 pretty boys, and "RICO" Truly Yours Legally Crowned will continue the legend here at Truly Yours.
Chad past away the same day that his other son CH. AShleysown Legal Dream, "HARRY" owned by Michael Hammerich won his first Best in Show.
Rico recently had his show-debut, winning his first CAC, and 2 best male behind his "big-brother" Harry!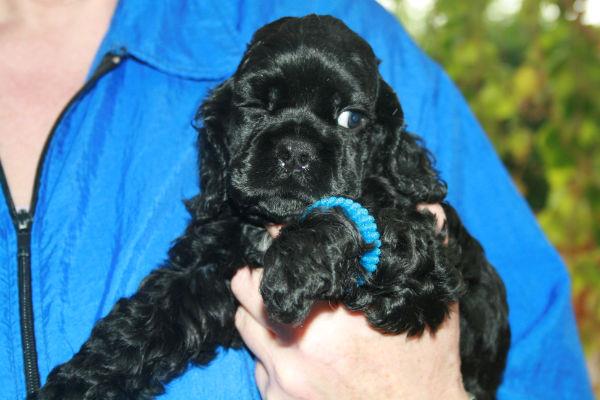 From the last litter sired by CH. Truly Yours Time to Say Good-bye, we keept the only girl "Lilla" Truly Yours Good As Gold.
She will soon have her show-debut in puppy Class.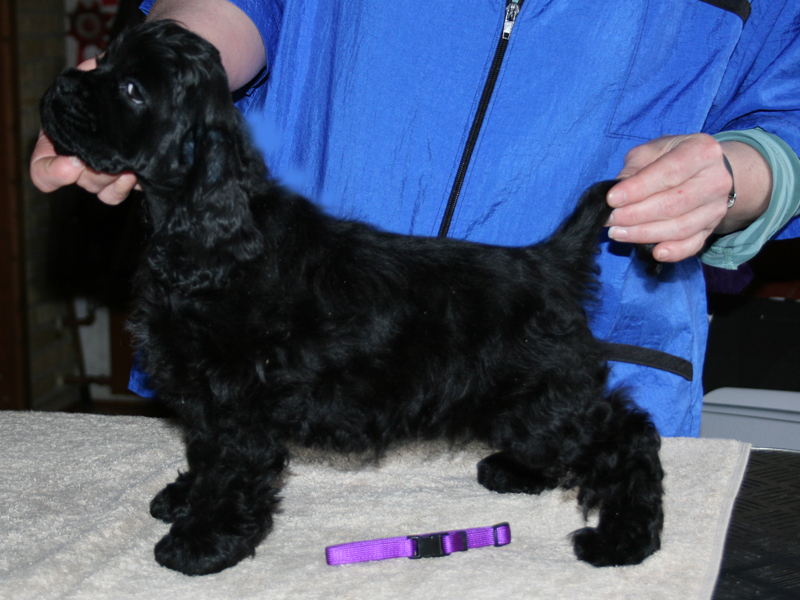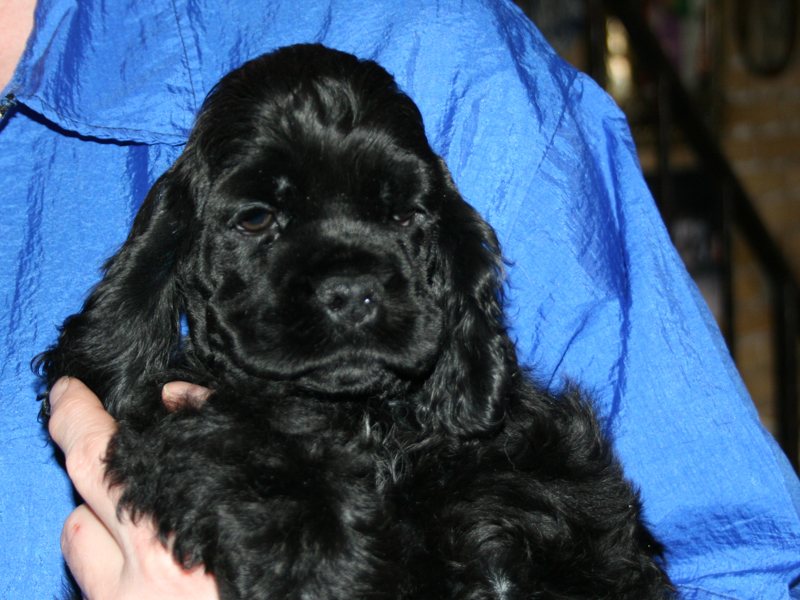 *****
Welcome to our visitor "VICTOR"
Lovely mostly 9 years old FIT FOR FIGHT male, beautiful, great pedigree, lovely temperament,
USACH. Sommerset´s Ridin` High
Expecting first litter sired by him in November.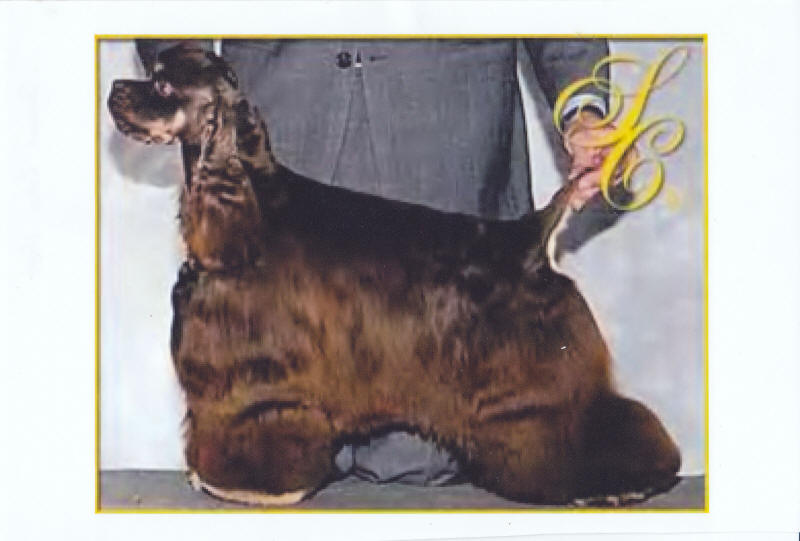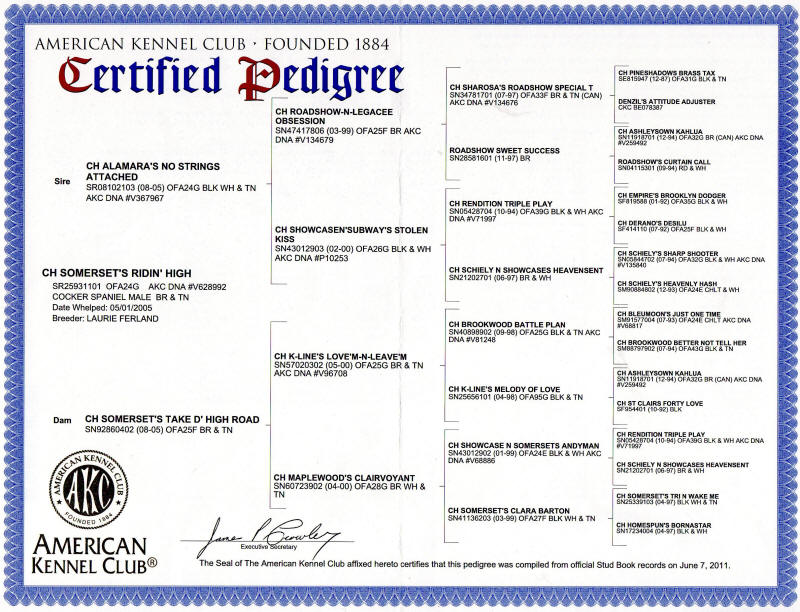 *****
Proud to introduce MR. MCLEAN
Our lovely tricolor male CH. Shalybon Truly Incredible Kool
Have been around traveling… First he joined our friend Csaba Attila Havasi last year, shown and finished in Croacia, Romania and Hungary, and won
EUROPA WINNER JUNIOR TITLE 2012!!
After a break back in Denmark, he left to join team Truly Yours in Canada with Jean Ashley… Will soon be out in the ring!!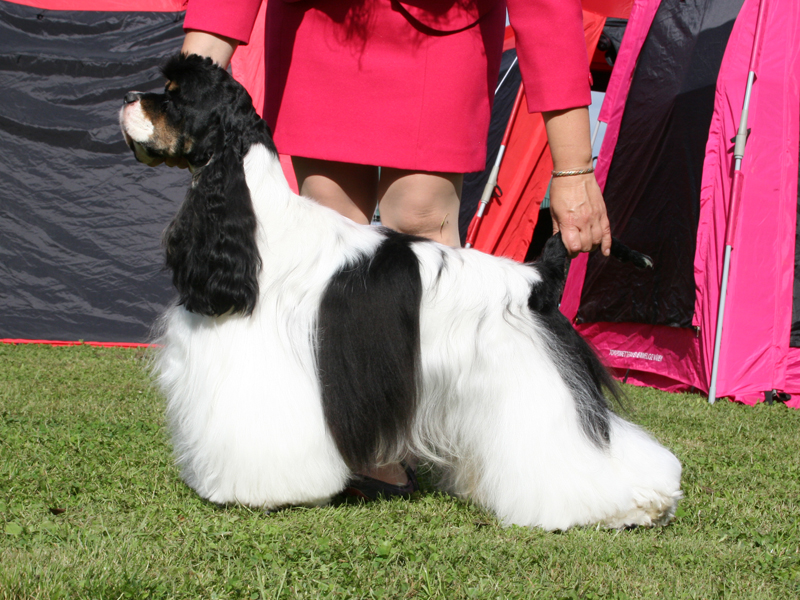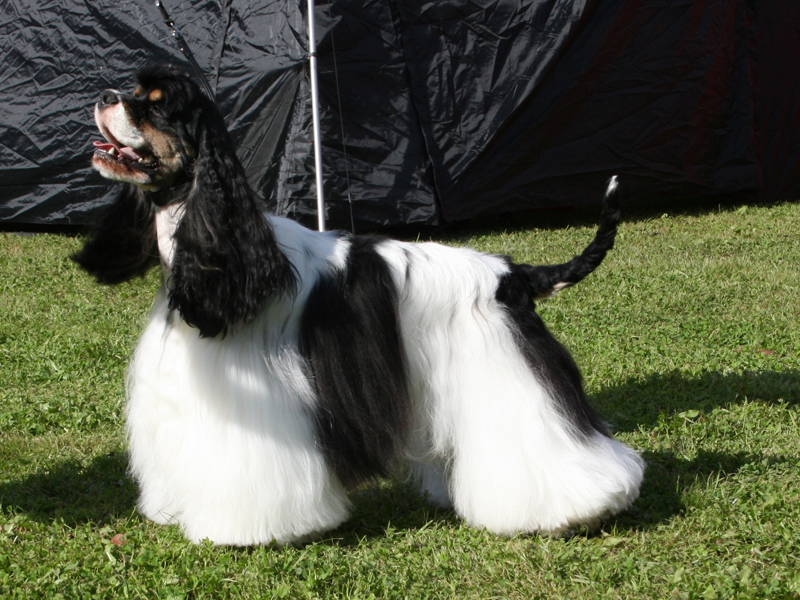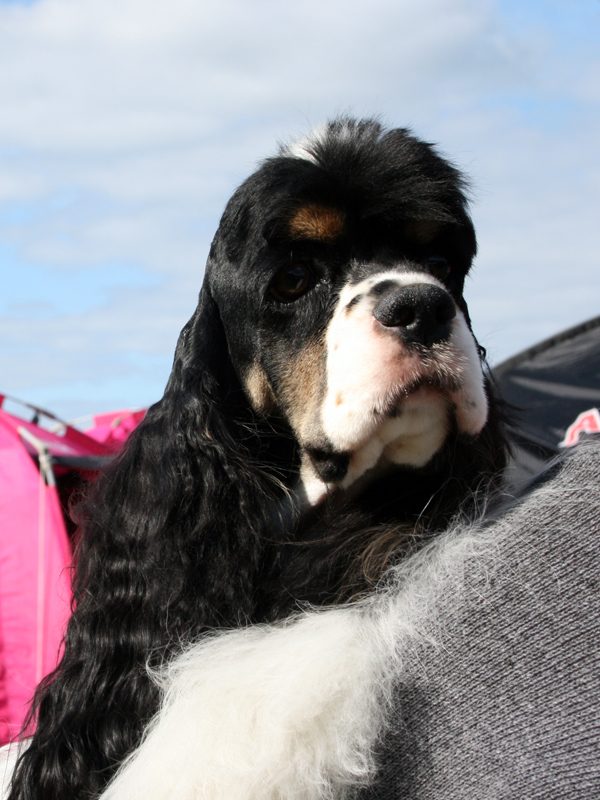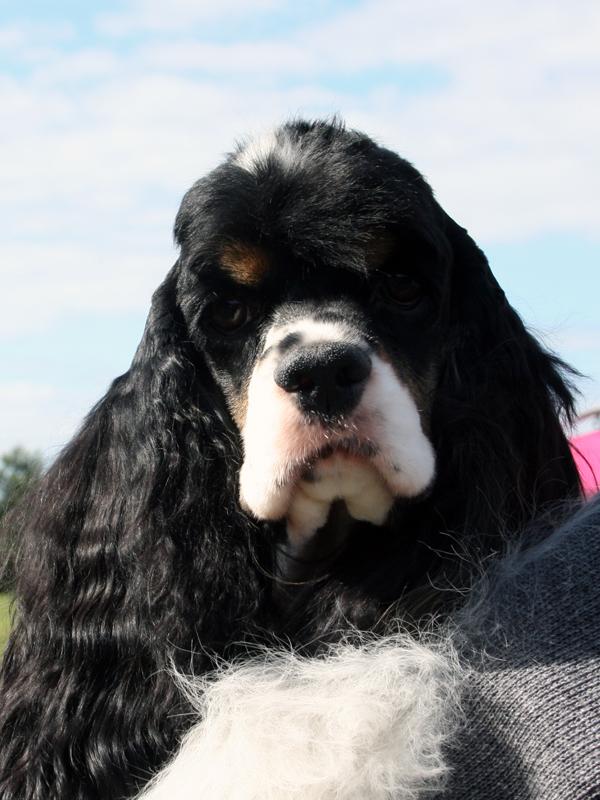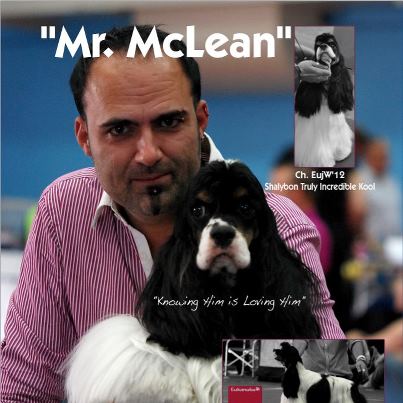 *****